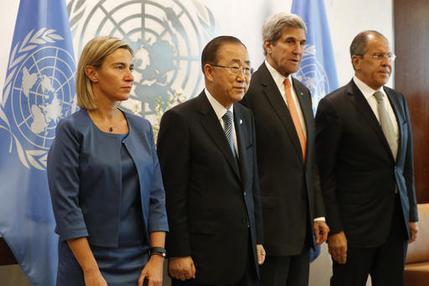 – The international diplomatic "quartet" of Mideast peacemakers is calling once again for Israel and the Palestinians to take steps to resume stalled peace talks.
At a meeting on the sidelines of the U.N. General Assembly on Friday, the top diplomats of the European Union, Russia, United Nations and United States urged the parties to create conditions for restarting "meaningful" negotiations toward a two-state solution. For the Israelis, this means a halt to settlement construction on territory claimed by the Palestinians. For the Palestinians, it means an end to incitement of violence.
The diplomats were also joined by the foreign ministers of Egypt and France, whose countries have each proposed ideas to restart talks. The quartet said all participants had agreed on the importance of coordinating peace efforts.
Syria truce
France's foreign minister says he will be disappointed but not discouraged if an agreement isn't reached in New York on a new cease-fire in Syria, insisting: "We will continue to fight."
Given the "impasse" in U.S.-Russia negotiations, Jean-Marc Ayrault vowed to fight for France's proposal to create a cease-fire oversight mechanism involving a large number of countries that would be chaired by a U.N. representative.
He told a news conference Friday on the sidelines of the U.N. General Assembly's annual ministerial meeting that he keeps asking Russia and Iran whether they favor a military or political solution.
"Every time, they respond to me that it's the political solution," Ayrault said. "But to have trust in that we need to look at the acts – and the acts are military ones up until now."
© 2016 The Associated Press
This error message is only visible to WordPress admins
Error: No connected account.
Please go to the Instagram Feed settings page to connect an account.