Obstruction of presidential vote is 'Kidnapping for Ransom', says Phalange party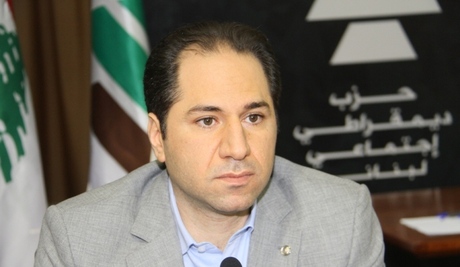 The Phalange party on Monday slammed "the behavior of some parties towards the presidential crisis" as "unprecedented blackmail" and "kidnapping for ransom."
"It is an unprecedented blackmail and an attempt to usurp the political system and kidnap the republic for a ransom," said the party in a statement issued after the weekly meeting of its political bureau.
"The stances that were voiced in the past hours confirm again the presence of a dictatorship that is appropriating MPs' freedom, burying democracy, suspending the Constitution and establishing a customary system for Lebanon," The Phalange party added.
And slamming the parties who are trying to "impose a president" on the country under the threat of plunging the country into "total chaos," the party warned that "this is the worst scenario for the most dangerous existential crisis that Lebanon has ever gone through."
The Lebanese parliament failed again September 8th and for the 44th time in a row to elect a president to replace Michel Suleiman whose term ended on May 25 , 2014.
As in the past sessions the parliament was unable to reach a quorum because the Iranian-backed Hezbollah militant group and its ally MP Michel Aoun's Change and Reform bloc MPs boycotted the session, because they could not reportedly guarantee Aoun's election as a president.
Amal Movement leader, Speaker Nabih Berri a key ally of Hezbollah postponed the election to September 28.
Aoun and Marada Movement leader Suleiman Frangieh are the 2 main candidates for president.
Aoun is backed by Hezbollah and the LF, and Frangieh is mainly supported by the Future Movement, the Amal Movement and the Progressive Socialist Party.
Lebanon's political impasse took a turn for the worse earlier this month after the FPM decided to boycott the national dialogue , which led Berri, who had been hosting the talks, to suspend the future dialogue sessions .
FPM is also setting the stage for street protests under the pretext of attempting to restore constitutionality after the group boycotted cabinet sessions and rejected to attend parliamentary sessions aimed at electing a new president over the lack of consensus on FPM founder MP Michel Aoun.
Lebanese Forces MP George Adwan said on Sunday that the best way to avoid escalation is to elect a president.
Another LF official told Asharq al-Awsat that the party rejects street protests and that it has warned FPM officials against taking any step that would threaten civil peace.