2 explosions rock New York, New jersey region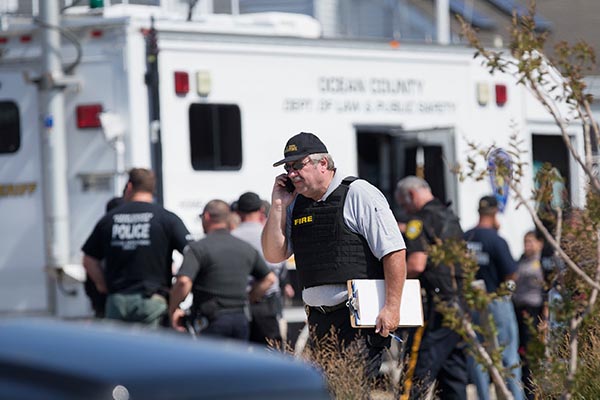 An explosion on a busy Manhattan( New York city)  sidewalk wounded at least 25 on the same day that a pipe bomb exploded at a military-benefit Jersey Shore charity run( in New Jersey ).
Both explosions happened on Saturday, Sept. 17, observed in the U.S. as Constitution Day. GoogleMaps shows that the blast sites are less than two hours driving distance from each other; however, authorities have not said whether or not the incidents were related.
Social media photos have shown a crumpled mini-dumpster at the Manhattan explosion site. Such steel waist-high wheeled containers are used to cart construction debris out of buildings to the street for disposal. The bins are meant to hold masonry, drywall scraps, lumber pieces and other heavy scrap. A typical construction mini-container has a footprint measuring around two feet by three-and-a-half feet ( (roughly 60 cm x105 cm)  . A rugged container of that type would need a rather strong blast to be moved, let alone to be bent out of shape.
After the Manhattan explosion, panicked pedestrians ran. Police responded and also evacuated people from the nearby subway station. The New York City Police Dept. official Twitter page said "At approximately 8:30pm @NYPD10Pct cops were patrolling on W23St when they witnessed a large explosion." Update tweets included "NYPD Bomb Squad & FBI Joint Terrorism Task Force were requested to respond," and "Due to NYPD @FDNY activity, avoid area of W23St (6 to 7 Aves). Expect traffic delays in the area."
The mayor and key police leaders gave an update in the 11 o'clock hour of Saturday night. "Early indications are that this was an intentional act," said Mayor Bill de Blasio.
A tweet from the fire department said no injuries were life-threatening. Some of the wounded were transported to hospitals.
The Manhattan blast was in the Chelsea district on a busy street lined with restaurants, offices, and residential buildings. The famed art gallery area is a couple of blocks to the west.
A look at GoogleMaps StreetView shows construction mini-containers lining the sidewalk behind concrete safety-barriers in front of the Selis Manor building at 151 W. 23rd St. (See this page's links section or http://bit.ly/2d7aNER )
Saturday morning in Seaside Park, New Jersey, a pipe bomb exploded along the route of a military-benefit charity run. The Semper FIve 5K race supports sailors and marines and their families. The race's start had been delayed while security personnel checked an abandoned backpack; otherwise hundreds of runners might have been near the N.J. detonation.
After the New Jersey bombing, the New York City Police Dept. Counterterrorism Division tweeted, "We are closely monitoring the incident in #SeasidePark #NewJersey." Around 11:30 p.m., the division tweeted, "Anyone with any information regarding the explosion in Chelsea, please contact 800-577-TIPS."
Facebook activated its SafetyCheck which lets one's social media friends know that one in an incident area is safe. See this page's links section ( or http://tinyurl.com/nyc-fb-safe )
This is a developing story. Updates could follow as new detail comes in.
WHSV
Update 1
Police investigating a possible secondary device
update 2
Fox News is reporting a second explosion on 27th street. The NYPD reportedly moved the media to safety before the blast indicating that it may have been a controlled explosion by police. The device is believed to be a "pressure cooker" device similar to the one used in the Boston Marathon bombing with a cell phone and wires attached.