Berri urges Salam to call for a cabinet meeting ASAP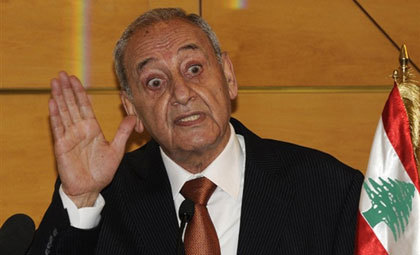 Lebanon Speaker Nabih Berri urged  Prime Minister Tammam Salam  to call a  cabinet members and warned that failure could lead to the cabinet's termination, An Nahar daily reported on Saturday.
"If  PM Salam fails to call for cabinet meetings he would be contributing to its obstruction, if not to say its execution," the daily quoted visitors to Berri.
The Speaker had announced to his visitors that he would have preferred that Salam scheduled a cabinet meeting before heading to New York, "but Salam does not want to escalate things," he remarked.
Salam headed  to New York to participate in the United Nations General Assembly on September 19.
Berri's visitors have quoted him as saying that he "approves holding the cabinet meetings when the constitutional quorum is achieved, as in accordance with the constitution."
He was referring to the latest cabinet meeting that convened in the presence of two thirds of the ministers which the Free Patriotic Movement described as "unconstitutional" and "does not conform with the National Pact."
"The most dangerous thing we face today in addition to the waste of time is that there is no unified vision for a solution. But I repeat what I said before, if we do not agree on what follows the presidency, then there will be no president," concluded the Speaker.