Aoun's chances for presidency almost "non-existent" , Geagea says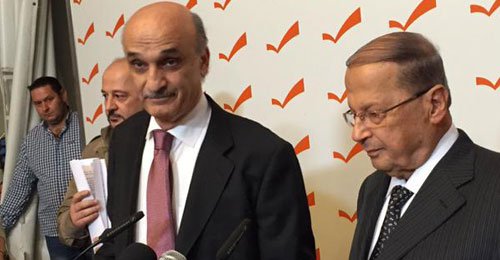 Lebanese Forces leader  Samir Geagea predicted   that chances of getting the founder of the Free Patriotic Movement MP Michel Aoun to the Baabda palace  have almost faded, media reports said on Saturday.
"The possibilities for MP Michel Aoun to become a president are almost non-existent," Geagea was quoted as saying.
His comments came during a meeting with a delegation of mayors from the Keserwan area that visited the LF leader a few days ago.
The reports surfaced after a meeting was held between Geagea and former  MP Ghattas Khoury the  top adviser of Future Movement chief  Saad Hariri
Khoury was dispatched by Hariri to meet Geagea early this week and the discussions focused on finding a way for  a breakthrough in the file of the presidency.
Unnamed sources quoted senior Future Movement  figures and said: "Crazy are those who believe that Saudi Arabia will give the green light for the election of, the ally of Iran's ally, as a president at a time when the dispute is raging between the two regional powers."
Meanwhile, LF sources said that Geagea had pointed out that "currently there is a difficulty to elect Aoun as president because Hezbollah does not want a president." Therefore Geagea tried to persuade Khoury into forming a trio panel that includes Aoun, Hariri and himself to convince Hezbollah  into the election of Aoun.
The Lebanese parliament failed again September 8th   and for the 44th  time in a row to elect a president to replace Michel Suleiman whose term ended on May 25 , 2014.
As in the past sessions the parliament was unable to reach a quorum because the Iranian-backed Hezbollah militant group and its ally MP Michel Aoun's Change and Reform bloc MPs boycotted the session, because they could not reportedly guarantee Aoun's election as a president.
Amal Movement leader, Speaker Nabih Berri a key ally of Hezbollah postponed the election to September  28.
Aoun and Marada Movement leader Suleiman Frangieh are  the 2 main  candidates for president.
Aoun is backed by Hezbollah and the LF, and Frangieh is mainly supported by the Future Movement, the Amal Movement and the Progressive Socialist Party.
Lebanon's political impasse  took a turn for the worse earlier this month  after the FPM decided to  boycott the  national dialogue , which  led Berri, who had been hosting the talks, to suspend the  future dialogue sessions .