Passenger train derails in Spain, killing 4 and injuring 48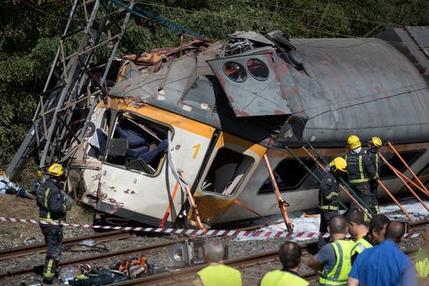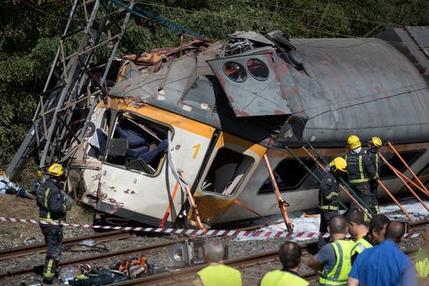 A passenger train derailed Friday in Spain's northwestern Galicia region, killing at least four people, including an American tourist, and injuring 48 others who were taken to hospitals, authorities said.
The accident occurred at 9:30 a.m. (0730 GMT) in Porrino, about 450 kilometers (280 miles) northwest of Madrid, the Galician regional government said. The three-car train was travelling between Spain and neighboring Portugal.
The regional government's president, Alberto Nunez Feijoo, told reporters at the scene that the train's Portuguese engineer and Spanish ticket collector were among the dead, as well as two passengers.
One of the passengers was a U.S. tourist who died on the train, according to an official at the regional government who spoke on condition of anonymity because she wasn't authorized to identify herself by name. She said she had no further details about the American victim.
A 23-year-old local man died in hospital, the regional government said in a statement.
The statement said that 27 injured passengers were still in emergency care mid-afternoon. The injured were mostly Spanish and Portuguese but also included people from the United States, Germany and Latin America, the statement said without providing further details.
The train was approaching Porrino station when it derailed. The front car came completely off the track and smashed into an electricity pylon next to the line, crushing the engineer's cab and leaving the car leaning to one side. The back two cars were partly off the tracks. Emergency services dispatched doctors on helicopters to the scene.
The train was carrying 63 passengers, state rail company Renfe said. It left Vigo at 9:02 a.m. and was scheduled to arrive in Porto in neighboring Portugal two hours later. It belonged to Portuguese rail company Comboios de Portugal.
Adif railway infrastructure company said it has opened an investigation. The derailment occurred on a straight stretch close to Porrino station.
© 2016 The Associated Press