Kurdish, Iraqi forces agree on Mosul battle plan, says Barzani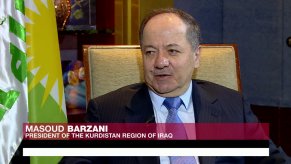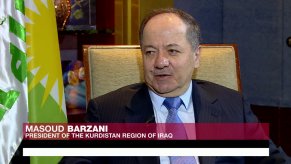 Military plans to retake Mosul from the Islamic State (IS) group are ready, the president of Iraq's autonomous Kurdish region told FRANCE 24 on Friday, claiming the Iraqi city could be retaken before the end of 2016 if a deal on its future administration is reached.
The Iraqi army and Kurdish Peshmerga forces, backed by a US-led coalition that includes France, will conduct the offensive but the role of pro-government militias has not been determined, Masoud Barzani said in an interview.
"There have been multiple meetings between leaders of the Peshmerga and the Iraqi army. They have finally agreed on the military plan," said the president of Iraq's autonomous Kurdistan Regional Government (KRG), without providing details.
The Kurdish leader, who is visiting France and has held talks with President François Hollande, said the French military would have a major role to play, providing air support and helping both Peshmerga and Iraqi forces to set up long-range artillery batteries.
He said the timing for launching the push on Mosul, located some 400km north of Baghdad, has not been determined, stressing that the city's recovery is "not just a military issue".
Asked if it could be retaken by the end of 2016, he said: "It is possible, but the post-liberation period must be prepared for."

Planning for peace
Mosul is the largest city in the IS group's self-proclaimed caliphate. It was captured by the jihadists in 2014 when Iraqi security forces dropped their weapons and fled.
Since then, Peshmerga forces have entrenched in its eastern and northern outskirts while retrained Iraqi forces have advanced to Qayyara, 60km south of the city, last month.
The ethnically and religiously diverse city poses major challenges to war-planners, including which forces will participate in the battle and how the city will be governed after.
Barzani said Shiite Muslim militias and a Sunni militia run by a former Mosul governor, which have pledged to take part in the offensive, had not yet been given a role.
"There must be a consensus between these forces and the residents of the Mosul area regarding each of the parties involved. [That consensus] has not been reached yet," he said.
Regarding the city's future administration, Barzani said several plans were on the table, but that it was too early to discuss them in public.
"This province is a mosaic of religions and ethnic groups and a real tragedy has occurred there, in particular for Christians and Yazidis," he said, referring to the persecution and massacre of minority groups by IS group jihadists.
"We need a guarantee that such tragedies cannot happen again," he added.
Referendum for Kirkuk
Barzani said his regional government had also reached an agreement with Baghdad over the future of the city of Kirkuk and surrounding areas, which lie outside the borders of Iraqi Kurdistan but were occupied by the Peshmerga in 2014 to stem the IS group advance.
He said the local population would be allowed to choose whether or not to join the autonomous Kurdish region in a referendum.
On the subject of Syria, where Kurdish forces have expanded their northern territories while battling the IS group, prompting Turkey to intervene militarily, Barzani said he would support a Kurdish push for autonomy or independence, provided there is a "consensus" among Syrian Kurds.
But he criticised the PYD, the dominant Syrian Kurdish party, for siding with Turkey's historic foe, the Kurdish PKK party, a move he said had "angered Turkey" and provoked it into military action.
FRANCE24