Is Trump getting a helping hand from Russia's Putin?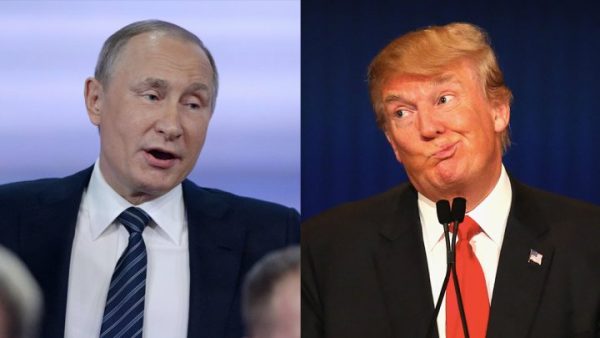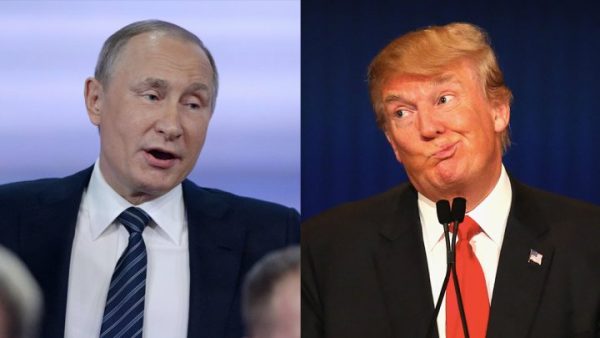 An embarrassing leak of Democrat emails ahead of their party's presidential convention has prompted accusations that Republican candidate Donald Trump benefits from a cosy relationship with Russian interests.
The trove of emails, sent to whistleblower website Wikileaks, led to the resignation this week of Debbie Wasserman Schultz, chair of the Democratic National Convention, after they revealed that party staffers had favoured Democratic presidential candidate Hillary Clinton over rival Bernie Sanders.
The New York Times reported that an investigation into the leak had led to "two Russian intelligence agencies" while news site the Daily Beast quoted US officials as saying the leak was a "deliberate attempt to influence the election in favour of Donald Trump".
If true, the allegations that Trump is benefiting from Russian help could be highly damaging.
Russia has denied any involvement, while the Republican nominee has shrugged off the accusations in typical style, tweeting on Tuesday: "In order to try and deflect the horror and stupidity of the Wikileakes [sic.] disaster, the Dems said maybe it is Russia dealing with Trump. Crazy!"
Russian Foreign Minister Sergei Lavrov on Tuesday shrugged off the accusations Russia was involved in the leak.
Ahead of meeting US Secretary of State John Kerry in Laos, Lavrov said simply: "I don't want to use four-letter words."
Mutual admiration
Trump and Russian President Vladimir Putin, however, have been full of mutual praise, prompting commentators to call the two men's relationship a "bromance".
In December 2015, Putin praised Trump as "a very striking man, unquestionably talented".
"It's not up to us to judge his virtues, that is up to US voters, but he is the absolute leader of the presidential race," the Russian leader said.
Trump responded by hailing Putin as a "strong leader, a powerful leader".
Asked about his thoughts on Trump last month, Putin said: "Mr. Trump has said that he is ready for a full-scale revival of Russian-American relations. What's wrong with that? We welcome that."
Trump's recent comments on NATO were also sure to please the Kremlin. Trump said last week that the US would not automatically defend NATO countries that have "not fulfilled their obligations to us", meaning those whose financial contributions to the alliance were in arrears.
Clinton's running mate Tim Kaine interpreted Trump's comment as "an open invitation to Vladimir Putin to roll on in" to the Baltic states.
Clinton's foreign policy adviser, Jake Sullivan, went a step further. "It is fair to assume that Vladimir Putin is rooting for a Trump presidency," he said.
Trump aides' ties to Putin
Several Trump aides enjoy close ties to either Putin or to Russian interests.
Trump's campaign manager Paul Manafort previously served as the presidential campaign adviser for Ukraine's pro-Kremlin president Viktor Yanukovich before he was deposed in a 2014 popular revolution. His ouster, and his replacement with the more pro-Western Petro Poroshenko, prompted Russia's ongoing intervention in east Ukraine.
Michael Caputo, who helped Trump win the New York primary, worked in 2000 to help state-owned conglomerate Gazprom Media improve Putin's image in the United States, according to the Washington Post. The Post cited a Caputo interview in which he said that, at the time, "Putin wasn't such a bad guy."
Trump's foreign policy advisor Carter Page also has "deep and continuing financial and employment ties" to Gazprom, according to journalist Josh Marshall writing on news site TPM.
"It is no exaggeration to say that you cannot be involved with Gazprom at the very high level which Page has been without being wholly in alignment with Putin's policies," Marshall writes.
Russia 'really is a scary place'
Trump himself has been making forays into Russia since the 1980s, although it has not been an easy ride.
According to the Washington Post, Donald Trump Jr. said in a 2008 real estate conference speech that he had travelled to Russia numerous times to represent his father's business, but that the country presented big challenges.
"As much as we want to take our business over there, Russia is just a different world," he said. "It is a question of who knows who, whose brother is paying off who. . . . It really is a scary place."
But the Trump empire was still able to attract Russian investment. The same year, the younger Trump told news site eTurboNews in 2008 that "Russians make up a pretty disproportionate cross-section of a lot of our assets… We see a lot of money pouring in from Russia."
In 2013 Aras Agalarov, a Moscow billionaire "who served as a liaison between Trump and the Russian leader" and Trump signed an agreement in 2013 (on the sidelines of Trump's Miss Universe competition in Moscow) to build a Trump Tower in the heart of the Russian capital, according to the same Washington Post article.
The Trump Tower in Moscow never materialised, however, and on Tuesday he responded to the allegations on Twitter: "For the record, I have ZERO investments in Russia."
FRANCE24