Christians and Druz mark 15th anniversary of 'Mountain Reconciliation'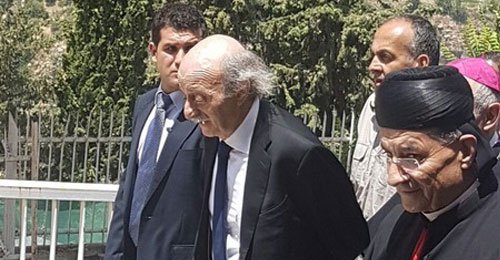 Maronite Patriarch Beshara al-Rai visited the Shout area of Mount Lebanon on Sunday marking the 15th anniversary of the mountain reconciliation between the Christians and Druze and to inaugurate a church in the village   Moukhtara, hometown of Progressive Socialist Party leader MP Walid Jumblatt.
Jumblatt and Lebanese Democratic Party leader MP Talal Arslan received the Patriarch in the presence of former Presidents Amin Gemayel and Michel Suleiman in  addition to former minister Walid Daouk representing ex-PM Najib Miqati, Papal Ambassador to Lebanon Gabriel Caccia, MP Ali Fayyad, Army Commander General Jean Kahwaji and a number of bishops and priests.
Rai headed a mass at the al-Saydeh Church in Moukhtara where he marked the anniversary.
He said: "On this occasion we are all committed, each from his own position, to continue this conciliation and provide it with the spiritual, economic and social frameworks to protect the mountain area."
He highlighted the necessity to primarily elect a president before addressing other pending issues in the country, he said: "What is the point of addressing issues before electing a head of state."
For his part,  Jumblat assured that there will be no return to any mountain war and his Druze community and its leaders  are committed to coexistence
"No return to war. Lebanon provides a unique example of diversity and we are committed to coexistence."
Earlier, Bkirki sources had told al-Joumhouria daily that the Maronite Patriarch  will "focus on the importance of coexistence between the Christians and Druze, and will reinforce the reconciliation between the two communities."
The reconciliation was first initiated by former Maronite Patriarch Nasrallah Sfeir in 2001.