U.S.-Russia cooperation efforts in Syria suffer major setbacks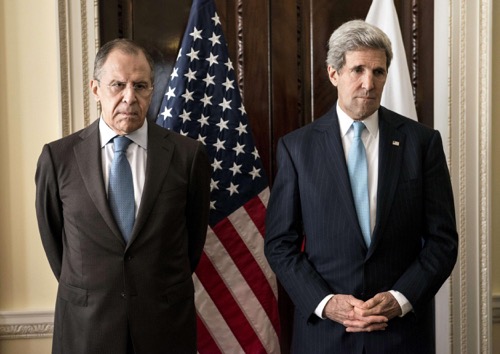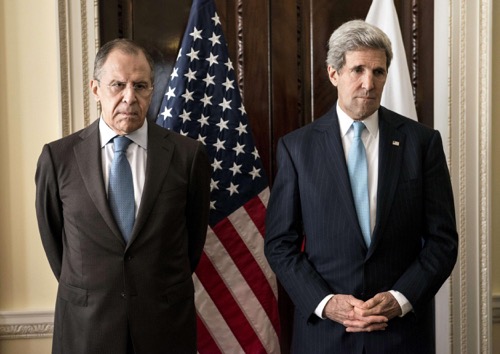 U.S. Secretary of State John Kerry's attempt to elicit Russian military cooperation in the fight against Islamic State in Syria suffered two potentially crippling blows on Thursday.
First, the Syrian army said it had cut off all supply routes into the eastern part of the city of Aleppo – Syria's most important opposition stronghold – and President Bashar al-Assad's government asked residents to leave the city.
That move, U.S. officials speaking on condition of anonymity said on Thursday, appeared to be an effort to pre-empt a U.S. demand that Russia and Syria reopen a major road into the divided northern city before talks could begin on creating a joint intelligence center to coordinate air attacks against Islamic State.
Then al Qaeda's Syrian branch announced on Thursday it was terminating its relationship with the global network created by Osama bin Laden and changing its name to remove what it called a pretext by the United States and other countries to attack Syrians.
Although one U.S. official called it "a change in name only," the move complicates the American proposal to limit the Russians and Syrians to targeting only Nusra and IS, not other rebel groups supported by Washington and its allies in the coalition against Islamic State.
"By disavowing its ties to al Qaeda – which, incidentally, it did with al Qaeda's blessing – Nusra has made it harder to isolate it from more moderate groups, some of whose members may join it now because it's more powerful than some of the groups they belong to now," said the official.
U.S. State Department spokesman John Kirby said Washington has been clear about its concerns over the announcement of the humanitarian corridor and that its view of the Nusra Front had not changed despite its name change.
"But we also remain committed to the proposals reached by the United States and Russia to better enforce the cessation of hostilities in Syria and provide the space needed for a resumption of political talks. If fully implemented in good faith, they can achieve a measure of success that has eluded us thus far," Kirby told Reuters.
"As the secretary made clear, however, we are pragmatic about these efforts, and we will look to Russia to meet its commitments as we will meet ours. That will be the primary, determining factor of success here," he added.
FALTERING PROPOSAL
The twin U.S. goals in Syria have been ending the violence that already has claimed some 400,000 lives, according to United Nations estimates, and seeking a political process to replace Assad, whom President Barack Obama has said "must go."
But while Washington and Moscow have both expressed hope they can find a way to cooperate against IS, Kerry's proposal was already in trouble due to the competing objectives of the Cold War-era foes as well as resistance from U.S. military and intelligence officials.
U.S. officials questioned Russian and Syrian claims that their aim in evacuating civilians from Aleppo was to clear the way for humanitarian assistance to reach the besieged city, where 200,000-300,000 civilians remain with only two to three weeks of food on hand.
"Why would you evacuate a city that you wanted to send humanitarian aid to?" asked one official. "At first glance, that would appear to be a unilateral effort by Moscow and Assad to pre-empt Kerry's demand for ending the siege of Aleppo before starting negotiations on the larger issues. If the proposal isn't dead, it seems to be pretty badly wounded."
U.N. Syria envoy Staffan de Mistura wants a deal as soon as possible so he can restart peace talks within a month and aid flows can resume.
REUTERS