Assad tells Netanyahu: If you help me, I will guarantee Israeli security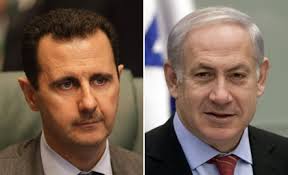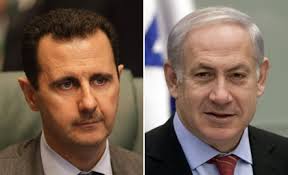 Syrian President Bashar Assad reportedly visited  secretly Russian President Valdimar Putin in Moscow, just days before the latter met with Israeli  Prime Minister Benjamin Netanyahu in June, Lebanese newspaper Al-Joumhouria reported Thursday.
Putin and Assad  reportedly discussed the crisis in Syria as well as the possibility of a comprehensive peace agreement with Israel, including the Golan Heights, Al-Joumhouria reported, however the Kremlin denied the report.
According to Johnny Munir, Al-Joumhouria newspaper reporter , the Assad Putin meeting focused on the US Russia plan which will be revealed in early August.In addition they reportedly  discussed the Bill Clinton Israeli Syrian peace  plan which will reportedly  form  the basis of the future Israeli Syrian  comprehensive peace plan.
Meanwhile Kuwait Newspaper "Al Jareeda " reported that Assad sent a letter to Netanyahu ahead of his meeting with Putin in which he vowed to keep the Golan heights free of any arms  and to continue to honor the ceasefire between the 2 countries "
"Help me to succeed in controlling my areas and I will guarantee security and peace for Israel in Golan on condition you don't side with any party that wants to topple my regime " , the daily quoted Assad as saying