Hariri: Hezbollah chief is an Iranian tool whose hands are smeared with Arab blood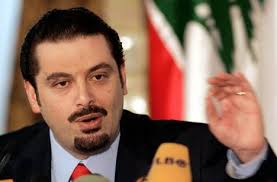 Former Lebanese PM and Future Movement leader MP Saad Hariri was quick to respond on Friday to Hezbollah chief  Hassan Nasrallah's  staunch attack against Saudi Arabia
"There are individuals who are experts in reversing facts and accusing others of their own involvement in certain practices, wars and sectarian strife," Hariri tweeted.
"The Kingdom of Saudi Arabia is a crown that is decorated with welfare and good deeds in the Arab history and it is a voice that will not be defeated in its defense of the causes of Arabs and Muslims," he added.
Hariri pointed out that "the continued attacks against the kingdom by some parties are a black mark in the history and present of those who are seeking to spread the culture of strife and wars in the Arab world," Hariri also pointed out that "those whose hands are smeared with Arab blood in Syria, Iraq, Yemen, Bahrain, Kuwait and Lebanon have no right to use podiums to insult Saudi Arabia, its leadership and its people."
"He who allows his party and militants to be an Iranian tool for sedition in the Arab societies will not be able to acquit himself no matter how much he gets creative in political falsification," Hariri added.
Earlier in the day, Nasrallah launched a  scathing attack against  Saudi Arabia, accusing it of rejecting dialogue in the region and stressing that its regional "project" will be "defeated."
"Your project has no future and Saudi Arabia and its rulers have a chance to contain the situation. The Yemenis, Bahrainis, Syrians, Iranians and Iraqis are ready to negotiate. Do not be arrogant and do not be blinded by malice. You should rather be partners in addressing the situations in the region," added Nasrallah.
"If you insist on the continuation of wars, you will be defeated. The project of the House of Saud will be defeated and disgraced… All indications in all arenas suggest that the region is taking this course," Nasrallah said  .