Lebanon's Mashnouq warns against abuse of Syrian refugees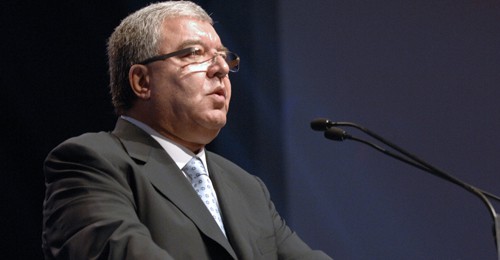 Lebanon Interior Minister Nouhad Mashnouq warned on Friday the law enforcement agents against abusing Syrian refugees after pictures showing some being mistreated by municipal police were posted online.
In a letter to heads of municipalities Mashnouq said that officers would face "disciplinary measures" if they abuse their power when dealing with citizens and Syrian refugees.
"Lately, there has been a rise in the abuses committed by members of the police in several municipalities concerning Syrian refugees," Mashnouq wrote.
He ordered the heads of municipalities to give "strict instructions" to police officers "to respect rules and regulations".
This comes after Human rights activists reported that policemen in the Amchit municipality carried out nighttime raids in several homes, detaining Syrian refugees.
The activists posted pictures online showing refugees kneeling or lined up facing a wall, their hands crossed behind their backs, as municipal policemen checked their identity documents.
The images have sparked outrage and prompted the authorities to arrest five municipal policement from Amchit, who were later released after being interrogated.
Lebanon hosts more than one and a half million Syrian refugees, roughly a third of the country's population.
Their presence has been a burden on Lebanon's economy and a source of tension, with rights groups saying the refugees face many restrictions.
At the end of June, troops raided a makeshift refugee camp near a predominantly Christian village on the border with Syria after eight suicide attacks that killed several people in al Qaa border village.
More than 500,000 people have been killed and millions displaced since Syria's civil war erupted in 2011.
Hezbollah's involvement in Syria's civil war is reportedly prompting many of the jihadists to come to Lebanon and seek revenge against the Iranian backed militant group which sent thousands of fighters to help the Syrian dictator. The terror acts by the terrorists is hurting the image of the Syrian refugees who suffer a lot every time there is a terror attack.
Al Qaa
State Commissioner to the Military Court Judge Saqr Saqr on Thursday charged three suspects, including a detainee, with involvement in the unprecedented multiple suicide bombings that rocked the Christian border town of al-Qaa in late June, National News Agency reported.
The three were charged with "staging acts of terror, carrying out two waves of suicide bombings in the town of al-Qaa, murdering and attempting to murder a number of civilians and other individuals, and sabotaging public and private property," NNA said.
The case has been referred to First Military Examining Magistrate Riad Abu Ghida, the agency added.
Al-Qaa is a predominantly Christian town nestled in a hilly border area that has been shaken by violence since Syria's conflict erupted in 2011.
Interior Minister Nouhad al-Mashnouq said the bombers came from the Islamic State group's bastion in the Syrian province of Raqa while Hezbollah chief Sayyed Hassan Nasrallah has said that they came from the IS posts in the outskirts of the nearby border town of Arsal.
The Lebanese army has fought off jihadist factions along the frontier and has sought to clamp down on local cells operating in the area.
In August 2014, the army fought deadly battles in and around the town of Arsal with militants from the IS and al-Nusra Front, al-Qaida's Syria affiliate.