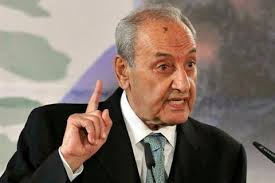 Lebanon Speaker Nabih Berri stressed Thursday that "there is no alternative" to the 1989 Taef Accord that ended the civil war
He ruled out the possibility of holding a so-called constituent assembly in the foreseeable future.
"Commitment to the Taef Accord is final and let no one think of any new constituent assembly. The Taef Accord is not a Quran or a Bible, but changing it is out of the question," said Berri in a speech at an economic conference for Lebanese expats.
"There is no better alternative at the moment and you must first implement the Taef Accord before talking about improving it," the speaker added.
There are fears in the country that the ongoing political and presidential vacuum might eventually lead to introducing constitutional amendments or holding a constituent assembly that would radically change the current political system that is based on a delicate distribution of power among the country's sects.
Hezbollah and Berri himself have been recently accused of seeking a constituent assembly aimed at altering the political system in their favor.
In June 2012, Hezbollah chief Hassan Nasrallah openly called for "a constituent assembly elected by the people."
"Why don't we form a constituent assembly elected by the people — not on a sectarian or regional basis but on the basis of competency — in order to discuss all options. Let it discuss the Taef Accord, a new social contract or a non-sectarian system," he said.
"We must support the state and its institutions if we want Lebanon to remain unified in this region that is facing the threat of segregation. I'm not talking slogans, we believe in this approach and we are educating our cadres accordingly. Lebanon cannot bear partitioning or federalism and its future can only be secured through a real, capable state ruled by law rather than factional affiliations," said Nasrallah.