Despite the garbage crisis Beirut was named one of worlds best cities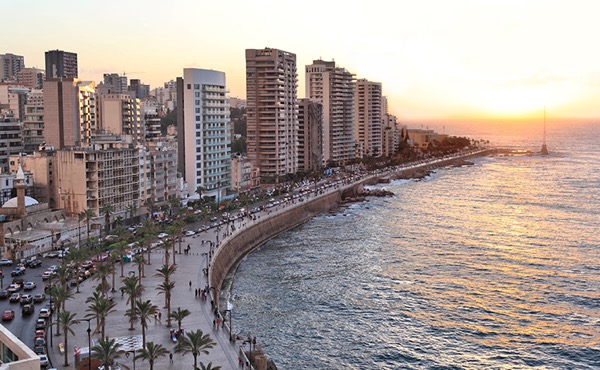 Beirut, Lebanon's capital city was named one of the the world's best cities, according to Travel and Leisure , a New York-based travel magazine.
Despite its recent garbage crisis, the volatile security situation, a two-year-long presidential vacuum and an ongoing Syrian refugee crisis, Beirut came out at number 12 in a readers-chosen survey conducted by Travel and Leisure, becoming the only Arab or Middle Eastern city to make the list this year.
Beirut came in above the Cambodian city of Siem Reap, but just below the historic Italian city of Rome.
Other cities making the list included Italy's Florence, Japan's Kyoto, Spain's Barcelona and South Carolina's city of Charleston at number one.
"In a region that is being devastated by war and destruction, Beirut rises out of the desert dust, with its contemporary art museums and Ottoman architecture, to serve as a guiding light," the magazine said, describing Beirut as one of the "less obvious, but incredibly rewarding destinations" to visit.
Travel and Leisure asked its readers to weigh in on travel experiences across the globe and rank cities based on landmarks, culture, cuisine, friendliness and shopping.
Marred by recent travel warnings issued by the U.S., Canada, and Gulf Arab states, Lebanon has recently attempted to attract tourists by holding dozens of festivals across the country during the summer season.
Defying all odds, Tourism Minister Michel Pharaon said earlier this month that Lebanon's tourist sector is still attracting people to visit the country.
One reader, Maya Elchebeir, said Beirut was a "strikingly beautiful city."
This is not the first time Beirut has been acknowledged as a top tourist destination. Last year, the Lebanese capital made it to the CNtraveler Readers' Choice Awards Top 50 and it ranked 20th in the world's best cities according to Condé Nast Traveler's 2013 Readers' Choice Awards.
In 2010 British Sunday times labelled "Lebanon as the best 'country' to visit in 2010".
In 2009 The New York Times recommended Beirut as the first place to visit
In 2006, before the war with Israel, Beirut was named by NY based Travel Magazine as the 9th best city to visit.