Berri rejects extensions of parliament term says elections will be held regardless of electoral law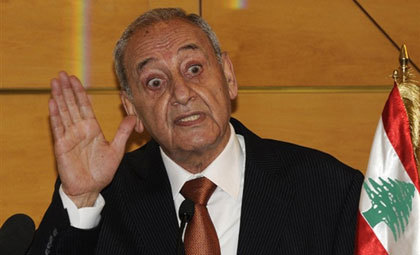 Lebanon Parliament Speaker Nabih Berri reiterated his firm rejection of a new extension of the parliament's term, stressing that the next parliamentary elections will be held in the spring of 2017 even if the political parties fail to reach an agreement on a new electoral law.
"Should no new electoral law be reached by November at the latest, the Interior Ministry will be obliged to prepare for parliamentary polls in the spring under the law that is currently in effect – the 1960 law," Berri told As Safir newspaper in remarks published Tuesday.
The speaker has several times repeated his rejection of the 1960 law, urging an electoral system based on proportional representation.
Berri has also proposed a so-called "package deal" involving parliamentary elections under a new electoral law before electing a new president and forming a new government.
Should the parties fail to agree on a new law, the parliament's current extended term would be curtailed and the elections would be held under the 1960 law which is currently in effect, Berri says.
The last parliamentary elections were held in June 2009 . On 31 May 2013, the Parliament extended its mandate for 17 months, due to the deadlock over the electoral law. And, on 5 November 2014, the Parliament enacted another extension, thus keeping its mandate for an additional 31 months, until 20 June 2017.