Vatican hits back at Turkey for calling pope 'crusader'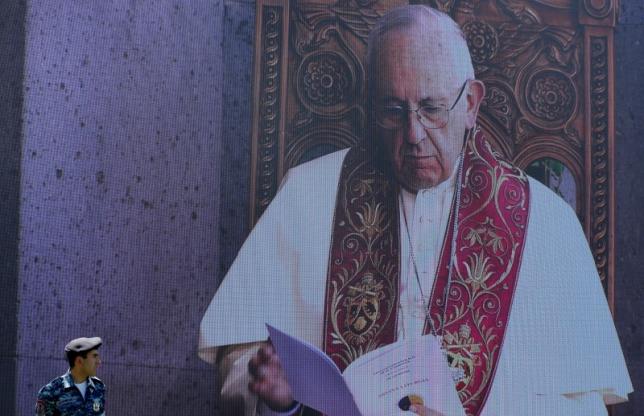 The Vatican hit back on Sunday at Turkey's depiction of Pope Francis as having a "crusader mentality" after he used the word genocide to describe the massacre of 1.5 million Armenians a century ago.
"The pope is on no crusade. He is not trying to organize wars or build walls but he wants to build bridges," spokesman Father Federico Lombardi told reporters. "He has not said a word against the Turkish people."
Addressing Armenia's president, the government and diplomats on Friday, Francis departed from his prepared text to use the word "genocide", a description that infuriated Turkey when he first used it a year ago.
Turkey's deputy prime minister Nurettin Canikli said on Saturday it was "very unfortunate" the pope had used the word, adding: "It is unfortunately possible to see all the reflections and traces of crusader mentality in the actions of the papacy and the pope."
Francis first used the word last year in a ceremony at the Vatican. An infuriated Turkey responded by recalling its ambassador to the Vatican and keeping him away for 10 months.
The word appeared again in a joint declaration signed at the end of the trip by the pope and the head of the Armenian Church, using the same phrase that riled Turkey last year.
Turkey accepts that many Christian Armenians living in the Ottoman Empire were killed in clashes with Ottoman forces during World War One, but contests the figures and denies that the killings were systematically orchestrated and constitute a genocide. It also says many Muslim Turks perished at that time.
On Sunday morning, at the last main event of his three-day trip to Armenia, Francis again made reference to the massacre, paying homage to "the many victims of hatred who suffered and gave their lives for the faith".
The pope was a guest in a Christian liturgy presided over by Catholicos Karekin II, head of the Armenian Apostolic Church, which split from Rome over a theological dispute in the fifth century and is part of the Oriental Orthodox Churches.
Francis sat to one side as Karekin led an elaborate service filled with chanting in the compound at Holy Etchmiadzin, the headquarters of the Armenian Church near Yerevan.
The pope has urged Armenia and Turkey to seek reconciliation and to shun "the illusory power of vengeance".
The dispute about the massacres and differences over Yerevan's support of the ethnic Armenian enclave of Nagorno-Karabakh in Azerbaijan, have led to fraught relations that include closed borders and a lack of diplomatic ties.
At the trip's last stop on Sunday before the pope was due to fly back to Rome, the two religious leaders released doves from a monastery near the Turkish border as a symbol of their hopes for peace between the countries.
REUTERS