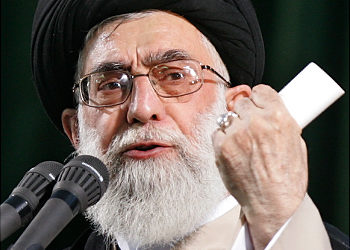 Iran's supreme leader Ayatollah Ali Khamenei slammed Bahrain's Sunni-led government for stripping a prominent Shiite cleric of his citizenship and incited the young Bahrainis to rise against the government .
He accused Bahrain of "blatant foolishness and insanity" for stripping Shiite cleric Sheikh Isa Qassim of his citizenship.
Bahrain stripped Qassim of his citizenship this week, accusing him of fomenting sectarianism and forming groups that "follow foreign religious ideologies and political entities," an apparent reference to Shiite-majority Iran. The move sparked demonstrations by his supporters and outrage among Shiites across the region.
Khamenei's website on Saturday quoted him as saying that the "persevering and knowledgeable" Qassim was a moderate who would have worked to "prevent extremist tactics." adding but "now, no obstacle can prevent these young enthusiasts from rising up."
Bahrain has consistently been accusing Iran and its proxy the Lebanese Hezbollah militant group of interfering in its internal affairs
This error message is only visible to WordPress admins
Error: No connected account.
Please go to the Instagram Feed settings page to connect an account.