Syrian government impedes humanitarian aid to besieged areas, UN says
Deliberate interference, most notably by the Syrian government, continues to hinder the delivery of humanitarian aid to more than 500,000 people trapped in besieged areas by the country's nearly four-year-old civil war, a UN official said Friday.
Under-Secretary-General for Humanitarian Affairs Stephen O'Brien told the Security Council, via video-link from Geneva, that 592,700 people are currently living under siege in Syria with the vast majority of them, some 452,700, besieged by government forces.
O'Brien said that even when humanitarian aid deliveries had been approved, the Syrian government "has severely curtailed the U.N.'s ability to reach those in need."
He said that the U.N. submitted plans to reach 1.1 million people in 34 besieged, hard-to-reach and other priority locations during the month of May and the Syrian government granted full approval to only 14 locations, with conditional approval for another eight, "effectively leaving more than 40 percent of the planned target population – including Aleppo, Al Wa'er and Talbiseh – without access to basic necessities and food."
In one case, O'Brien said, a convoy headed to Darayya, where 4,000 civilians have been besieged for years, had to be aborted due to "unconscionable last-minute restrictions."
"At the last check-point, government forces removed all basic supplies, including nutritional items for infants. No other conclusion can be drawn other than that this was simply a way to further punish civilians – at this time infants," O'Brien said.
Bashar Jaafari, Syria's U.N. Ambassador, disputed O'Brien's claims and accused Turkey of using the humanitarian convoys to deliver weapons to the government's enemies.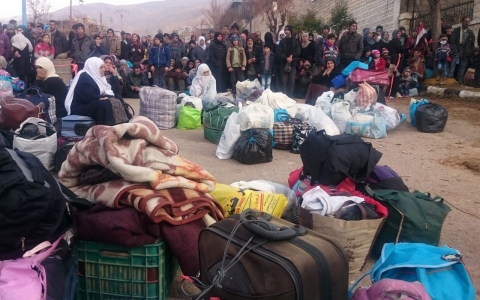 He said that Syria allows for the delivery of aid, "except for things that be handed to terrorists" and said that out of 19 government-approved aid convoys the U.N. only sent three.
"Cooperation is not a one-way street, the U.N. also has to cooperate with the Syrian government," Jaafari said.
In his briefing, O'Brien also addressed the possibility of reaching those in besieged area with air drops of food and aid, but added that these are "costly, dangerous and technically very challenging."
He pointed out that several weeks of airdrops over Deir-ez-Zor – where some 20,000 people are besieged by non-state armed groups – have delivered 762 metric tons of food, or roughly the equivalent of what would arrive in a single aid convoy.
"The gravity and the scale of need means that the U.N. must consider such options, but only as a last resort, and not forgetting that the U.N. would require the approval of the government of Syria," he added.
On Thursday, the U.N.'s Syria envoy Staffan de Mistura said without substantial progress in humanitarian access by June 1, that air drops would be an option.
FRANCE24/(AP)