PM Salam admits that Lebanon is a failed state for not electing a president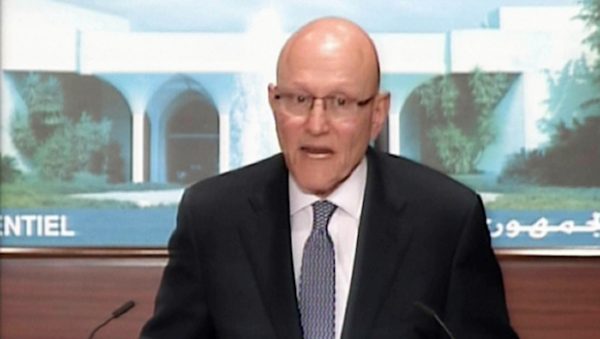 Lebanese Prime Minister Tammam Salam admitted late Wednesday that Lebanon is a failed state when it comes to to the failure of the country's political factions to end the two-year presidential vacuum.
"Our government has become what you call a failed and corrupt government…My decisions get harder day by day, and I hold the responsibility, because I feel that the Lebanese people do not want to take the country to a place where there is more harm," Salam said in a televised interview Wednesday night on Tele Liban.
Salam made the comment as the day Lebanon entered its third year without a head of state. Lebanon has been without a president since the term of Michel Suleiman ended in May 2014.
The Lebanese parliament failed earlier this month and for the 39th time in a row to elect a president to replace Michel Suleiman whose term ended on May 25 , 2014.
As in the past sessions the parliament was unable to reach a quorum because the Iranian-backed Hezbollah militant group and its ally MP Michel Aoun's Change and Reform bloc MPs boycotted the session, because they could not reportedly guarantee Aoun's election as a president
Parliament Speaker Nabih Berri a key ally of Hezbollah postponed the election to June 2.
PM Salam said that when he was appointed PM in February 2014, he didn't expect the presidential vacuum to last so long.
"When I was appointed, the government was only supposed to function for two months with the purpose of holding the parliamentary elections ," he said.
Salam noted that the presidential vacuum has had a negative impact on the country's economic growth.
"When growth last year was zero percent, it is natural to be worried about the economic situation. Certainly, the presidential void affects this situation."
He revealed that more than once, he wrote a resignation letter in a bid to pressure the government to act on certain issues.
"If I didn't threaten with my resignation, we wouldn't have reached a solution to the garbage crisis, and if this case was not resolved from a national passage, we would have never reached a deal," he added.
Salam said that the issue of electing a head of state is linked to foreign influence, but that "no one cared" about Lebanon amid all the regional and international developments.
Salam suggested that political factions look to other candidates if they can not decide between the current frontrunners Marada Movement leader Suleiman Frangieh and Free Patriotic Movement founder Michel Aoun.
Salam also touched on the Syrian refugee crisis in Lebanon, saying no one "pressured Lebanon" to naturalize them, but that it still needs to be cautious of such attempts.
About 1.1 million Syrian refugees are registered with the U.N. in Lebanon, but the government estimates the true figure to be close to 1.5 million.