Death of a convicted inmate at Roomieh prison in Lebanon sparks protest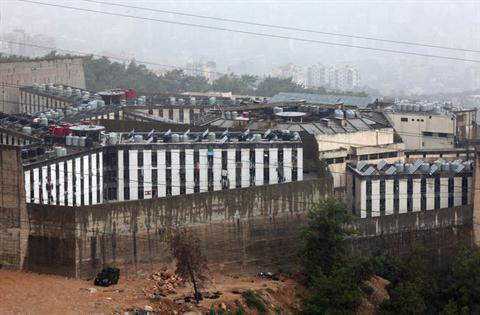 Inmates at the notorious Roumieh Prison Thursday launched a protest and accused security forces of negligence after a jailed militant died at the facility the night before.
According to security sources Fadi Akkoush, who was detained in connection with the 2014 Bhanine battles in the northern district of Minyeh, suffered from heart disease.
Akkouch was allegedly a supporter of extremist preacher Sheikh Khaled Hoblos, who was arrested in April during a police operation in Tripoli. Investigation into Hoblos uncovered dormant cells in north Lebanon.
Security forces deployed heavily in the facility's Bloc B to prevent riots, the source added. However, LBCI reported that prisoners at Roumieh prison kicked off a strike to protest the death of the inmate.
Bloc B is well-known for holding suspected and convicted Islamist militants. They operate with relative impunity from inside the prison.
The Internal Security Forces released a statement later Thursday clarifying what happened based on CCTV footage, denying reports that authorities were late to provide Akkoush with medical attention.
The statement said Alloush had left his cell at 9:25 p.m. Wednesday and headed to the prison's medical center, where he received the necessary treatment.
It continued that at 9:59 p.m., the doctor requested that Akkoush be transferred to hospital. CCTV footage showed ambulances outside the prison's perimeters at 10:19 p.m. However, upon reaching the hospital, paramedics found that Akkoush had already passed away.