Hezbollah's future hinges on the outcome of Syria's war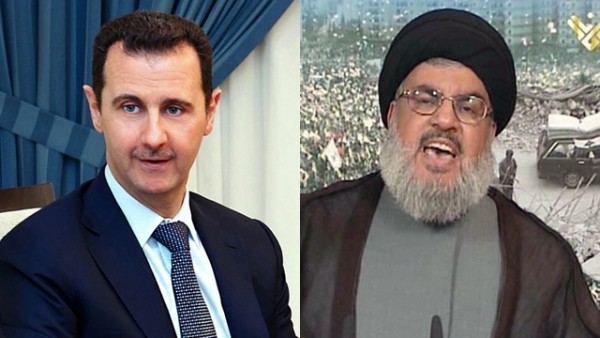 For all its current brutality and intractability, the war in Syria, like all wars, will one day come to an end. In pondering over what the Middle East will look like when that day comes, it is worth considering how the war will have changed Hezbollah, the Lebanese Shiite militia and political organization.
Last week Hezbollah's Mustafa Badreddine was killed in Syria. Badreddine was not just an ordinary fighter for the group. He was responsible for some of Hezbollah's most spectacular attacks over the years, including the 1983 U.S. Marine barracks bombing in Beirut, along with other hotel, embassy and airline bombings. His death was one more sign that Hezbollah is being changed by Syria.
When Hezbollah started sending fighters into Syria in 2012, it did so quietly, without acknowledging it—and for good reason. Hezbollah chief Hassan Nasrallah knew his group had much to lose by admitting it was siding with a reviled dictator facing a popular uprising. But that dictator, Syrian President Bashar al-Assad, was losing the war, and Hezbollah had to help save him in order to save itself.
Before the war in Syria, Hezbollah's official raison d'etre was to protect Lebanon from Israel. The group was established in southern Lebanon by Iran's Revolutionary Guards in the 1980s, at a time Israeli forces were occupying that part of the country as a buffer zone. Iranian advisers trained Hezbollah fighters, and Tehran continues to help fund the group today. When Israel withdrew from Lebanon in 2000, Hezbollah remained committed to its destruction. The two have since fought several wars.
After the 2006 war with Israel, Hezbollah and its leaders became heroes in the Arab world. A 2008 poll showed Nasrallah had become the most popular figure in the region.
The same poll showed Assad as the second-most-popular man. By 2012, when Nasrallah decided to send his fighters into Syria, the Arab Spring had exploded, and the Islamic State had not yet become a force. Arab publics had come to view Assad as a tyrant crushing his citizens' democratic dreams.
Nasrallah eventually admitted publicly that he had thrown his lot with Assad and with his patron, Iran, in the fight for Syria, declaring, "This battle is ours." As some observers noted, the fact is that if Assad had lost the war at that moment, Hezbollah might not have survived. Syria serves as a vital link between Iran and the organization. Without it, Hezbollah cannot replenish its armaments and operate as Lebanon's state-within-a-state.
Syria and the Middle East look very different today than they did even in 2012. Iran has at least partially come back in from the cold due to an international agreement over its nuclear program. Russia has intervened on Assad's side in the Syrian civil war. The rivalry between Iran and its Arab neighbors has become even more acrimonious. And the Islamic State has become a major player, boosting Assad's claim—many argue by design, not coincidence—that he is the sole alternative to terrorism in the country.
There is also an international process, albeit a faltering one, to bring an end to the war. It now seems quite conceivable that Assad might survive the conflict.
That brings us back to the question of how the war will end up affecting Hezbollah's regional position.
Undoubtedly, Hezbollah's prestige in the Arab world has plummeted. Its image as a single-minded enemy of Israel is tarnished. It has now clearly taken a side in the deepening Sunni-Shiite regional divide, with disastrous consequences for its standing among the Sunni-ruled states.
In March, the Gulf Cooperation Council—comprising Saudi Arabia, the United Arab Emirates, Kuwait, Bahrain, Oman and Qatar—unanimously voted to classify Hezbollah as a terrorist organization. The move came after a number of terrorist plots involving Hezbollah operatives were uncovered in Arab countries, including one in Bahrain earlier this year reportedly involving the Iranian Revolutionary Guards as well. In Kuwait, 25 people were charged with spying for Iran and Hezbollah and planning attacks after a weapons cache including rocket launchers, machine guns and grenades was discovered in their possession.
A week after the GCC decision, the entire Arab League followed suit, with the 22-member pan-Arab group also labeling Hezbollah a terrorist organization. Only Lebanon and Iraq expressed "reservations" about the designation.
With the moves, the GCC and the Arab League joined the U.S., Canada and Australia in blacklisting Hezbollah as a terrorist entity. The European Union calls Hezbollah's "military wing" a terrorist organization.
In addition to the blacklisting and the erosion of support in Arab capitals, Hezbollah has lost large numbers of fighters in the Syrian battlefield. One Washington think tank analyzed funeral announcements and concluded that at least 865 Hezbollah militia fighters have died in combat. Among the dead are some of the group's top strategists and operatives, including Imad Mughniyeh and Samir Kuntar, in addition to Badreddine. With Nasrallah, they were some of the group's core personalities, and their loss is a serious blow to the group, with lasting consequences.
And yet, Hezbollah has also gained invaluable military experience in Syria, where Western experts believe Nasrallah has deployed some 8,000 men. When the war ends, they will emerge battle-hardened, trained in the use of more-advanced military equipment, and versed in combat tactics including those developed by Iran and Russia.
What's more, intelligence experts believe Hezbollah has replaced the armaments it lost in 2006, its most recent war with Israel, and has far surpassed its previous levels. Current estimates say it has about 150,000 rockets and missiles aimed at Israel.
In fact, the group's loss of popularity could start fading after the Syrian war ends. Nasrallah will pivot back to confronting Israel as soon as he can. The group's main focus, and Iran's longer-term mission for its Lebanese ally, is challenging Israel. Once a new and seemingly inevitable clash between Israel and Hezbollah occurs, popular support for Hezbollah is sure to increase again.
Nasrallah is already working to drum up that support. In a recent speech, he boasted of a plan to attack Israel and cause damage comparable to that of a nuclear attack. The Hezbollah leader's words cannot be dismissed. His plan, he said, is to launch missiles at a large chemical facility in the northern Israeli city of Haifa, where ammonia storage tanks, if hit, could cause devastation.
As for the ties with Arab capitals, that rift will not soon heal.
While the balance is mixed, the ultimate impact of the Syrian war on Hezbollah will depend on how the conflict ends. If the war ends with a power-sharing agreement that brings an end to the rule of Assad and other Iran loyalists in Damascus, Hezbollah will have lost much in the conflict. If Assad survives, Hezbollah's—and Assad's—patrons in Iran will make sure the group is generously compensated with weapons, cash and very possibly access to strategically useful territory near the border with Israel. In that case, too, Assad will remain eternally in Hezbollah's debt, and Hezbollah will emerge stronger from the conflict.
WPR