EgyptAir flight MS804: Trump asserts "it got blown out of the sky'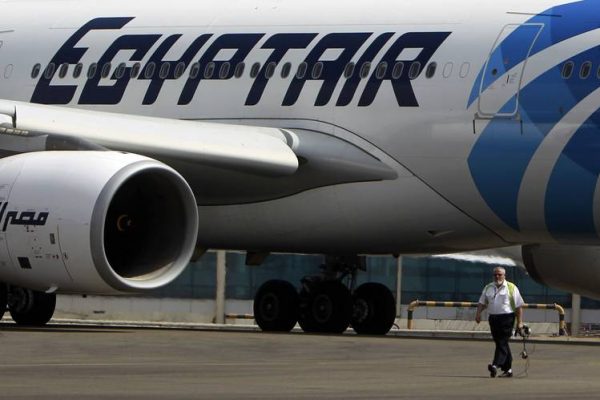 No official announcement has been made about what caused the crash of EgyptAir Flight MS804, but the likely Republican presidential nominee has no doubt that terrorists are to blame.
"About twelve hours ago, a plane got blown out of the sky," Donald Trump said in a speech at a campaign rally in Lawrenceville, N.J. "If anybody thinks it wasn't blown out of the sky, you're 100% wrong folks, OK?"
Trump also tweeted Thursday morning that the crash "looks like yet another terrorist attack" even before Egyptian Civil Aviation Minister Sherif Fathi said the cause was more likely terrorism that a technical malfunction.

Trump's declaration aside, nothing is yet known about the cause of the crash. Fathi said the probability of it being a terror attack is "higher than that of a technical error," but Reuters also quoted unnamed officials who said the United States saw no signs of an explosion.
The likely Democratic presidential nominee Hillary Clinton didn't go so far as to claim 100% certainty about went brought down the plane, but she did say that Trump serves as a recruitment tool for terrorists in one of her first public comments after the crash.
"We have seen how Donald Trump is being used to essentially be a recruiter for more people to join the cause of terrorism," Clinton said in an interview with CNN in which she also called Trump "potentially dangerous" and "not qualified to be president of the United States."
No explosion detected by satellites
U.S. reconnaissance satellites did not detect evidence of a large flash or explosion aboard the EgyptAir A320 jetliner, U.S. officials said.
The officials, who were not authorized to speak publicly on intelligence matters, said the U.S. has not ruled out terrorism, mechanical failure or other issues.

But they said the initial examination of imagery and other evidence gleaned from satellites doesn't point to a large-scale blast aboard the plane.
"At this time we do not yet know definitively what caused the disappearance of Flight 804," White House Press Secretary Josh Earnest said in a statement. "The United States stands ready to provide our full support and resources to the Governments of Egypt and France as they investigate this incident."
USA Today/LA Times