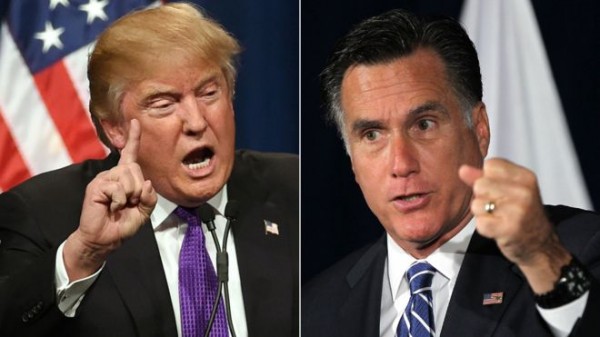 Mitt Romney won't attend the Republican National Convention this summer, joining three previous nominees in skipping the event and underscoring the deep divide inside the GOP over Donald Trump becoming the party's standard-bearer.
An aide to Romney said Thursday that the former Massachusetts governor would not go, despite accepting the nomination at the convention four years ago.
With Trump as the party's presumptive nominee, whether to attend the convention has become the latest front in an internal party struggle over how to handle the billionaire businessman's role in the GOP.
A spokesman for former President George W. Bush said yesterday that he would not be attending and a spokesman for his former President George H.W. Bush said he would not attend either. Jeb Bush, who ran for the Republican presidential nomination, 
told CNN earlier this year 
that he would not attend the convention.
Sen. John McCain, the 2008 Republican nominee, announced last month he was skipping the convention. The only other living former Republican nominee, Bob Dole, will attend the convention, his spokeswoman told CNN.
House Speaker Paul Ryan, who also serves as chairman of the Republican National Convention, encouraged fellow members of his party to attend. And a spokesman for former House Speaker John Boehner also said he would attend.
"I'm just not ready to do that at this point. I'm not there right now," the Wisconsin Republican told CNN's Jake Tapper in an interview, making him the highest-level GOP official to reject Trump since the real estate mogul became the presumptive nominee.
Trump said Thursday he doesn't care if the former Republican nominees attend the convention.
"When I hear that they are going to sit it out, I think that's fine I don't care if they sit it out," Trump said on CNBC. "But I have tremendous support, in fact even politically you see that so many people are now coming out in support and we are going to have some people that aren't going to want to play the game and that's okay. I mean if they don't want to, I don't think it matters."
Of the prominent former Republican presidential hopefuls this primary season, none reached by CNN Thursday were able to definitively say they were planning to attend the convention.
A spokesman for Kentucky Sen. Rand Paul, who's supposed to be a delegate from Kentucky, said they hadn't yet released July's schedule.
A spokesman for former Arkansas Gov. Mike Huckabee said he'd "most likely attend" the Cleveland gathering.
"Governor Huckabee will most likely attend the convention although no final plans have been set," spokesman Hogan Gidley told CNN.
Catherine Frazier, a spokeswoman for Ted Cruz, told CNN she's "Not in a place to announce anything but happy to keep you posted."
Trump has started efforts to unify the party, saying after he became the presumptive nominee Tuesday night, "This has been an amazing evening. … I didn't expect it. And what Ted (Cruz) did is really a very brave thing to do and a great thing to do because we want to bring unity to the Republican Party. We have to bring unity."
But the party remains scarred and fractured as Republicans prepare to take on their likely Democratic opponent, Hillary Clinton.
A missive from first-term Republican Sen. Ben Sasse seeking a conservative to run against Trump and Clinton quickly lit up Facebook shortly after it was posted early Thursday morning. Sasse's staff has since said he's not interested in doing a third party run.
CNN