Hezbollah chief claims his fighters in Syria are defending Lebanese interests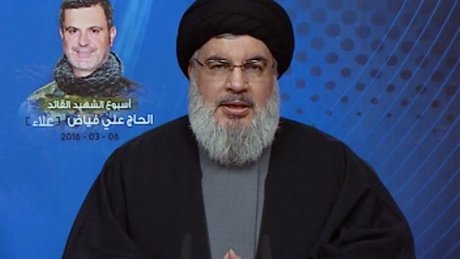 Hezbollah chief Hassan Nasrallah made another TV appearance via video link on Sunday to claim that the Hezbollah fighters in Syria are the "the real defenders of Lebanese interests."
In a speech marking one week since the funeral of Hezbollah commander Ali Fayad, who was killed fighting in Syria's Aleppo province the Hezbollah chief linked the latest Saudi Arabian measures against Lebanon and his Iran-backed party to what he called the kingdom's "failure" in Syria and Yemen.
"What protects this country is its army, people and resistance and those who expect that the Arab League or Arab consensus can prevent Israel from attacking Lebanon are delusional," Nasrallah said.
Addressing Arab governments, Nasrallah added: "We do not want anything from you. We do not want money, arms or support, just leave this resistance, country and people alone."
Addressing the issue of the death of Hezbollah commander Ali Fayad Nasrallah said :
"Hajj Alaa (Ali Fayad) and his brothers ( Ibrahim) went to Iraq when Daesh (Islamic State group) invaded Mosul, Anbar, parts of Salaheddine and Kirkuk and reached areas near Baghdad, and entire Iraq became in danger," Nasrallah explained.
"It would be delusional to think that we would wait for the Arab League in order to intervene in Iraq. We were fighting in Iraq under an Iraqi leadership and had we been fighting under an American leadership, they would not have labeled us as terrorist," he added, referring to the GCC resolution .
His comments come several days after the Saudi-led Gulf Cooperation Council issued a resolution in which it labeled Hezbollah as a "terrorist" organization over what it called "terrorist acts and incitement in Lebanon , Syria, Yemen and in Iraq" and alleged interference in the affairs of Gulf states.
The resolution followed a series of Saudi measures against Lebanon and Hezbollah that started on February 19 when the Saudi foreign ministry announced that the kingdom was suspending around $4 billion in military aid to the Lebanese army and security forces.
Addressing the Arabian Gulf states, Nasrallah added: "Had it not been for the Popular Mobilization forces in Iraq, Daesh would have been now in your palaces and it would have been killing you and enslaving your women."
"Arab dignity is when every Arab goes to Iraq to defend the dignity and holy sites of the Iraqis, not to label those defending Iraq as terrorists," Nasrallah added
He noted that Lebanon is facing Saudi Arabia's "rage" because "failure leads to anger" and "when you get angry you try to do something."
"Saudi Arabia is angry because its bets in Syria and Yemen have failed," Nasrallah pointed out.
"Their anger targeted entire Lebanon because they wanted to enrage the Lebanese people against us," he claimed.
"The Lebanese know very well that the Saudi scheme in Syria was to topple the regime without caring who might rise to power, be it Daesh, al-Nusra (Front) or groups of similar ideology. Those confronting Saudi Arabia in Syria are the real defenders of Lebanese interests," Nasrallah added, hitting out at Saudi Arabia's allies in Lebanon who have criticized the party's role in Syria and the region.
But several Lebanese leaders blasted Nasrallah's speech
Health Minister Wael Abou Faour slammed on Sunday Nasrallah's remarks , stressing that the conflicts in the region are not more important than "the interests of Lebanon and its people."
"The latest crisis with the Kingdom of Saudi Arabia and the Arab Gulf states can be resolved and the solution is in the hands of the Lebanese or some of them, who must stop antagonizing and provoking the Arab countries through stances, remarks and actions that are not in the interest of Lebanon and the Lebanese," Abou Faour , who is a key member of the Progressive Socialist Party (PSP) said.
"It is not right to prioritize the calculations, interests and conflicts of Yemen, Bahrain, Syria and other regional problems over the interests of Lebanon and its people," the minister stressed.
Lebanon's Interior Minister Nouhad al-Mashnouq accused the Iranian Revolutionary Guard Corps on Sunday of using Lebanon as an "operations room" for its activities in Yemen, Syria and other countries.
"Our stance is clear on rejecting Hezbollah's interference and Iran's Revolutionary Guard is using Lebanon as an operations room for its foreign operations in Yemen, Syria and other places," Mashnouq said in an interview with Al-Arabiya television, hours after Nasrallah's speech.
"We will do all we can to prevent Lebanon from being turned into a Persian thorn in the thigh of Arabs," the minister vowed.
"We are voicing a political, peaceful stance and we do not want a military confrontation or a sectarian strife," he underlined.
"The entire world will realize that in Lebanon there are political forces that do not accept that Lebanon be taken hostage of foreign policies that are not in the interest of the Lebanese," Mashnouq said on Sunday.
"The entire world will realize that in Lebanon there are political forces that do not accept that Lebanon be taken hostage of foreign policies that are not in the interest of the Lebanese," Mashnouq said on Sunday.
Mashnouq had accused Hezbollah in late February of having "trained" Iran-linked militants who have been allegedly captured in several countries across the world.
"Iranian revolutionary guard terrorist cells that were captured in eight countries comprised members who were trained in Lebanon" at the hands of Hezbollah, Mashnouq said.
Saudi Arabia has linked its measures to Lebanon's refusal to join the Arab League and the Organization of Islamic Cooperation in condemning attacks on Saudi diplomatic missions in Iran last month, and alleged Hezbollah "terrorist acts against Arab and Muslim nations."
In addition to the Gulf Cooperation Council several countries list Hezbollah as a terrorist group, including the United States, France, Australia , Canada and the Netherlands. The European Union, New Zealand and the United Kingdom have proscribed Hezbollah's military wing as a terrorist organization.