Abou Faour slams Hezbollah chief: Conflicts in region not more important than Lebanon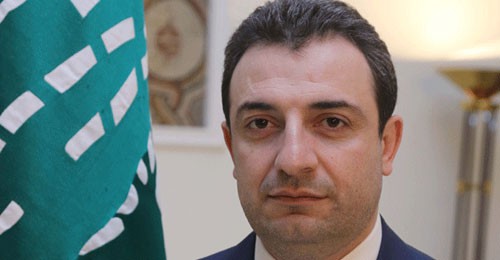 Health Minister Wael Abou Faour slammed on Sunday Hezbollah chief Hassan Nasrallah's remarks , stressing that the conflicts in the region are not more important than "the interests of Lebanon and its people."
"The latest crisis with the Kingdom of Saudi Arabia and the Arab Gulf states can be resolved and the solution is in the hands of the Lebanese or some of them, who must stop antagonizing and provoking the Arab countries through stances, remarks and actions that are not in the interest of Lebanon and the Lebanese," Abou Faour , who is a key member of the Progressive Socialist Party (PSP) said.
Such stances "do not belong to the principles, identity of priorities of the Lebanese," Abou Faour added.
"It is not right to prioritize the calculations, interests and conflicts of Yemen, Bahrain, Syria and other regional problems over the interests of Lebanon and its people," the minister stressed.
PSP chief MP Walid Jumblatt has been taking a centrist position until now. Abou Faour's remarks could signal a change in the PSP position according to analysts.
The Health Minister's remarks came a few hours after Nasrallah renewed his verbal attacks against Saudi Arabia and then Arabian Gulf countries over the conflicts in Yemen, Iraq and Syria and linked Riyadh's latest measures against Lebanon and Hezbollah to what he called the kingdom's "failure in Yemen and Syria."
"Their anger targeted entire Lebanon because they wanted to enrage the Lebanese people against us," Nasrallah said.
Saudi Arabia launched a series of measures February 19 when the its foreign ministry announced that the kingdom was suspending around $4 billion in military aid to the Lebanese army and security forces. The kingdom later slapped sanctions on individuals and firms that have ties to Hezbollah and advised its citizens against travel to Lebanon while urging those already in the country to leave it. 4 other Aran Gulf countries followed suit and issued warnings against travel to Lebanon.
Saudi Arabia has also pushed the Gulf Cooperation Council to label Hezbollah as a "terrorist" organization and accuse it of "terrorist acts and incitement in Lebanon, Syria, Yemen and in Iraq."
Saudi Arabia has linked its measures to Lebanon's refusal to join the Arab League and the Organization of Islamic Cooperation in condemning attacks on Saudi diplomatic missions in Iran last month, and alleged Hezbollah "terrorist acts against Arab and Muslim nations."