Berri: Solution to the presidency is no longer in the hands of the Lebanese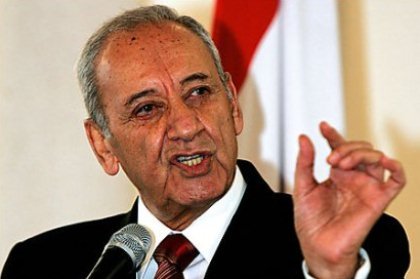 Speaker Nabih Berri said on Thursday that a solution to the controversial file of the presidency is no longer in the hands of the Lebanese and that a Saudi-Iranian dialogue could be the secret magical medicine  for this hurdle.
"The antidote to elect a president of the republic is no longer a Lebanese decision. It seems that the only chance we have now lies in a Saudi-Iranian dialogue. It apparently seems to be the only potion," Berri told al-Akhbar daily in an interview.
"We have long awaited for a Lebanese agreement in order to keep this entitlement within this range, but it pitifully failed," added the Speaker.
Berri noted: "The contradictory positions and divisions among political factions is madness and schizophrenia. It's a madhouse."
"The March 14 alliance are not the same, nor is the March 8 camp. They are divided, or almost divided over the candidates for the presidential race which did not lead to positive outcomes or a solution for the presidential crisis," he concluded.
But relations between Iran and Saudi Arabia at the moment are worse than the relations between the rival political camps in Lebanon  and for this reason the potion Berri is talking about may never be formulated according to observers
The Lebanese parliament failed again on Feb 8  and for the 35th time in a row to elect a president to replace Michel Suleiman whose term ended on May 25 , 2014.
As in the past sessions the parliament was unable to reach a quorum because the Iranian-backed Hezbollah militant group and its ally MP Michel Aoun's Change and Reform bloc MPs boycotted the session, because they could not guarantee Aoun's election as a president
Berri  who is a key ally of Hezbollah postponed the election to to March 2, 2016 .
Telecommunications Minister Butros Harb criticized the current state of democracy in Lebanon, calling for an amendment to the constitution that forces lawmakers to attend the polls.
Observers are of the opinion that Hezbollah has been using Aoun to destabilize the country by  obstructing  the presidential election and does not want a Lebanese president for the time  being nor does its backer Iran which has been busy trying to expand its influence in the Arab world