U.S Treasury imposed sanctions on 2 men over alleged money laundering for Hezbollah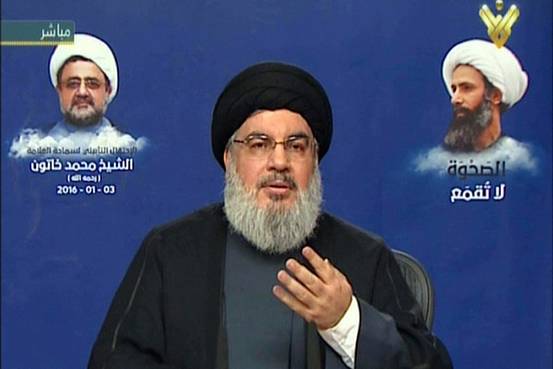 The U.S. Department of Treasury said Thursday it imposed sanctions on two men and a company for allegedly providing financial services to Hezbollah.
Treasury said in a statement that the designations continue its campaign against Hezbollah under its counter-terrorism finance authority. Recent actions have targeted nearly 40 people and entities associated with the Lebanese group, Treasury said, imposing sanctions on those associated with its terrorism, criminal, commercial and procurement activity. Treasury said it's targeted a total of more than 100 people and entities associated with Hezbollah, which has been under various U.S. sanctions since 1995.
Sanctions were put on Mohamad Noureddine, who Treasury alleges is a Lebanese money launderer that has worked directly with Hezbollah's financial apparatus to transfer the group's funds via his Lebanon-based company Trade Point International S.A.R.L., which was also put under sanctions. Hamdi Zaher El Dine, also targeted Thursday, is an employee of Trade Point International, Treasury said.
"Hezbollah needs individuals like Mohamad Noureddine and Hamdi Zaher El Dine to launder criminal proceeds for use in terrorism and political destabilization," said Adam J. Szubin, acting undersecretary of Treasury for terrorism and financial intelligence, in the statement.
Mr. Noureddine has used an extensive network across Asia, Europe and the Middle East to provide money laundering, bulk-cash shipment, black-market currency exchange and other financial services to clients that included Hezbollah, Treasury alleged. He has also provided services to Adham Tabaja, and his company Al-Inmaa Engineering and Contracting, both of whom were placed under U.S. sanctions in June.
Matthew Levitt, the author of a book on Hezbollah's global footprint, wrote this week for WSJ's Think Tank about the wide U.S. crackdown on the group's financing network. In the post, he called Mr. Tabaja a "high-level operative." Saying the group is "facing hard times," Mr. Levitt explained the multiple angles with which the U.S. is waging the crackdown, noting that investigators have pursued so many Hezbollah-related cases that "the group can no longer pretend to ignore them."
"In his December speech, [Hezbollah leader Hassan] Nasrallah challenged his accusers: 'Bring me the evidence!' The U.S. and other countries appear to be doing just that," wrote Mr. Levitt.
WSJ