Jumblatt derides 'Iran's Democracy, says Khamenei has password for ending Lebanon presidential crisis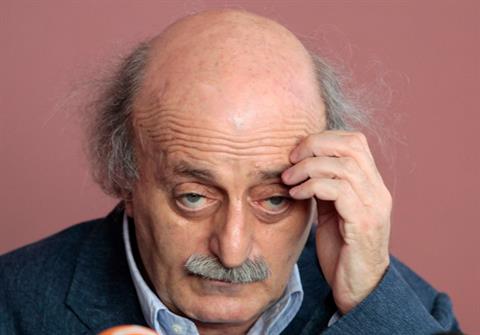 Progressive Socialist Party leader MP Walid Jumblatt ridiculed on Wednesday the democracy in Iran," citing the recent exclusion of the grandson of the founder of the Islamic Republic Ayatollah Ruhollah Khomeini, from contesting elections next month.
The PSP leader said via Twitter: "Given its 'democratic' record, perhaps Iran does not want the election of any MPs Henri Helou, Suleiman Franjieh, or Michel Aoun as president."
"It is strange that Khomeini's grandson is unwanted, but this is democracy in its highest form in the Islamic Republic," he added sarcastically.
"At this rate, what is the authority that chooses – pardon, I mean elects – the president in Lebanon?" Jumblatt wondered .
Perhaps it does not want to elect any of the Lebanese candidates, he noted, "but this is also a democratic choice based on the Iranian system."
Hassan Khomeini, a 43-year-old cleric with close ties to reformists, was not verified as having sufficient religious competence by the Guardian Council, his son Ahmad said on his Instagram account, despite "testimony from dozens of religious authorities".
Khomeini had hoped to be a candidate for election to the Assembly of Experts, a powerful group of clerics which monitors the work of Iran's current supreme leader, Ayatollah Ali Khamenei, and will be responsible for selecting his successor after his death.
Jumblatt continued: "I stipulated that the president should not be a state employee, meaning that the army commander has been ruled out and he doesn't even want the post."
"The Democratic Gathering reminded the public last week that Helou enjoys Christian and national credibility. They were not impressed by this, but this is our democratic opinion," he tweeted.
"It seems however some characteristics are still missing, which means that a president will not be elected at the moment. I don't know what this missing factor is," he remarked.
"At any rate, it appears that Lebanon's national dialogue has started to resemble Iran's council for diagnosing the regime," the lawmaker said of the talks that were held at Speaker Nabih Berri's Ain el-Tineh residence in his absence.
"The password to ending the presidential impasse is in the hands of Iran's Supreme Leader Ayatollah Ali Khamenei," he added sarcastically.
Jumblatt's Democratic Gathering bloc last week re-endorsed Helou as its candidate for the presidential elections.
He is running alongside Change and Reform bloc leader MP Aoun and Marada Movement chief MP Franjieh.
The 35th parliament session has been scheduled for February 8 to elect a successor to former President Michel Suleiman whose term ended in May 2014, but An Nahar yesterday quoted sources of FPM and allies as saying they "will not participate in a parliament session that does not guarantee to get Aoun the presidential post," and that this stance "has been coordinated with Hezbollah following the Maarab rapprochement."
Hezbollah is reportedly awaiting the green light from its backer Iran before declaring its official position following the rapprochement between Lebanese Forces leader Sami Geagea and Aoun.