Geagea , Hariri relations getting more complicated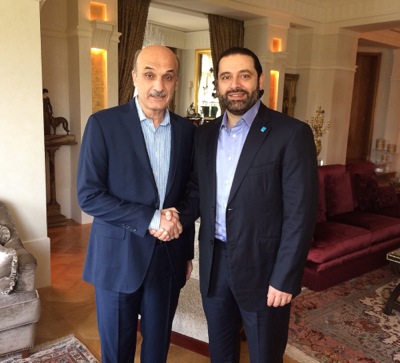 Relations between former Lebanese PM ,  Future  movement leader MP Saad Hariri and Lebanese Forces chief Samir Geagea have become more complicated after the  latter's endorsement  of his long-time rival for the presidential elections.
According to  Thursday report by al-Joumhouria,     a meeting was held by Hariri's advisor Nader Hariri and LF  media official Melhem Riachi at the Center House a on Wednesday .
But the attempts to bridge the gap between them are becoming " much more complicated," said al-Joumhouria.
Geagea announced on Monday his support for Free Patriotic Movement founder MP Michel Aoun, putting him at loggerheads with Marada Movement chief MP  Suleiman Franjieh, who is Hariri's  proposed candidate.
Geagea and Aoun, both presidential candidates, were angered late last year when Hariri nominated Franjieh for president without consulting them.
The race  is now between 2 March 8 politicians Aoun and   Franjieh.
The next session for parliament to elect a president is scheduled for  February 8. But it is not yet clear whether Lebanon will have a head of state on that date .
According to observers the biggest  question on the mind of the Lebanese : "Will Hezbollah show up this time at the parliament to vote for its candidate  Michel Aoun"
If not then Geagea may have called Hezbollah's bluff, the observers are saying .
These  observers believe that Hezbollah never really seriously considered Aoun for the presidency but has been using him to obstruct the election .