Lebanon cabinet will finally meet Monday to resolve the Garbage crisis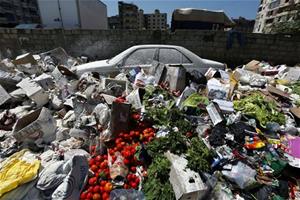 The Cabinet will finally meet next week to examine a solution to the 5-month-old garbage crisis.
Prime Minister Tammam Salam announced the decision on Friday. Salam called on the Cabinet to convene at 4:30 p.m. Monday to discuss Agriculture Minister Akram Chehayeb's proposals to export garbage and take the appropriate decisions on them.
Salam has previously rejected calls to convene the Cabinet until an agreement over the garbage crisis is reached.
Speaking to reporters after meeting Berri at Ain al-Tineh on Friday , Salam expressed optimism about resolving the garbage crisis.
"There is a positive development. There is a plan [on exporting garbage] that will be fully discussed. Exporting garbage is a temporary measure until we adopt sustainable plan and solutions for this issue," he told reporters after the meeting.
Asked whether the rift over Lebanon joining a Saudi-led Islamic military coalition to fight terrorism would be discussed during the Cabinet session, Salam said: "This session is devoted to discussing the issue of garbage and exporting it."
Several rumors are circulating about the cost of exporting the garbage , but Chehayeb called the numbers inflated
Ministerial sources told An Nahar that very few details are being revealed over the trash disposal deal, most notably on its cost and funding.
They said that it calls on municipalities to cover 25 percent of the cost, while the state will cover the remaining 75 percent.