Aoun won't budge, still adamant on seeking Lebanon presidency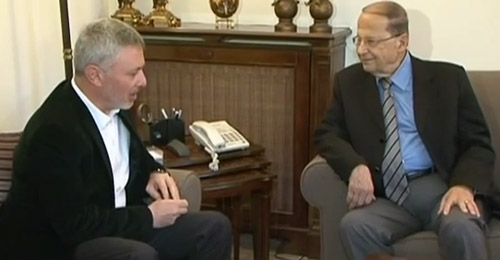 The dispute between Change and Reform bloc chief MP Michel Aoun and Marada Movement leader MP Suleiman Franiieh over the presidency widened Friday with Education Minister Elias Bou Saab saying that the Free Patriotic Movement founder is a presidential candidate now more than ever in what appeared to be a response to the Marada Movement leader, who a day earlier announced his own candidacy.
Aoun is not willing to abandon his bid to run for president in spite of the interview given on Thursday by Franjieh, reported al-Joumhouria newspaper on Saturday.
Aoun's visitors told the daily that the lawmaker "will not give up and he will go ahead with his nomination."
They reiterated his previous claims that "preserving the republic is more important than the presidency."
Sources from the Future Movement have meanwhile maintained their silence over Framjieh's interview in anticipation of Aoun's stance.
Franjieh announced on Thursday his candidacy for the presidency during an interview with Marcel Ghanem on LBC's Kalam Ennas talk show.
Aoun, a member of the March 8 alliance along with Franjieh, is also a candidate.
The Marada Movement's run for the presidency has created tensions between the two sides with the former previously saying that he would not run for the post as long as Aoun is still a candidate.
Franjieh described on Thursday his ties with Aoun as "abnormal", saying that they have been that way for some two years.
Meanwhile Speaker Nabih Berri said former Prime Minister Saad Hariri's initiative supporting Franjieh's candidacy is more than serious.
His visitors told the al-Joumhouria newspaper : "It is an honest nomination and his initiative is more than serious."
Berri, according to visitors at his Ain al-Tineh residence, reiterated that the problem over electing a president lay with the four top Maronite leaders – Aoun, Franjieh, Lebanese Forces chief Samir Geagea and former President Amine Gemayel who are all bidding for the presidency.
"If the four [Maronite] leaders fail to agree on a president, we should then look for electing another Maronite figure," Berri said, adding that there are many candidates in the Maronite community among whom a president can be elected.
Even though he has emerged as a strong presidential candidate following his meeting with Hariri in Paris last month,
Franjieh's bid is encountering staunch opposition from the three main Christian parties – the Free Patriotic Movement, the Lebanese Forces and the Kataeb Party.
Hariri is backing Franjieh's nomination as part of an initiative to reach a comprehensive settlement to end the 19-month-old presidential vacuum and revive the work of Parliament and the government paralyzed by the power vacuum. The initiative calls for Frangieh to be elected president and for the formation of a unity cabinet.
Franjieh is reportedly set to hold a series of talks with independent officials, al-Joumhouria reported on Saturday.
These officials include Telecommunications Minister Butros Harb.