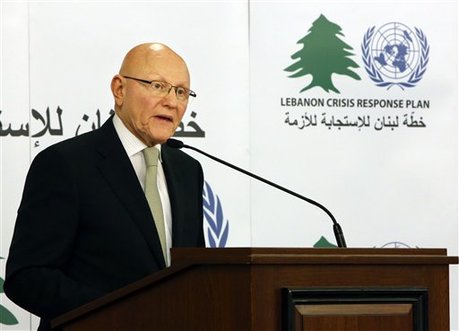 During the ceremony for  launching   the Lebanon Crisis Response Plan for 2016 at the Grand Serail  on Thursday ,  Prime Minister Tammam Salam stressed  that the Syrian refugees will not be "naturalized" in Lebanon.
The plan is a joint effort between the Lebanese government and the United Nations and it aims to ensure that the response to the Syria crisis "tangibly benefits Lebanon and helps to stabilize the country during this difficult period," the U.N. said in a statement.
"I say to whomever it might concern: the naturalization of the refugees is out of the question. It is not in our calculations or in the calculations of our Syrian brothers," Salam said.
"I am pleased to announce the launch of the Lebanon Crisis Response Plan for 2016, but I add to this announcement a call for all parties concerned to deal with this document without neglecting Lebanon's national priorities," the premier urged.
He said the plan is the outcome of the efforts of Lebanese ministries, "topped by the Social Affairs Ministry," noting that "these efforts would not have been fruitful had it not been for the U.N. support."
"Lebanon is in need for financial projects dedicated to developmental goals and infrastructure plans," Salam added.
The PM underlined that "given its size and resources, Lebanon has been generous with the refugees more than any other country or party."
"The entire world knows how fragile our economic situation is and it knows that we are hosting what is equivalent to more than one third of our population. We were and are still counting on the understanding of the friendly and donor countries," Salam added.
He hoped the upcoming donors conference in London will be able to "offset this negligence of Lebanon."
"This is a temporary solution to a crisis that must not protract any further, as it is necessary to stop the bloodbath in Syria so that all refugees can return to their country," he added.
Lebanon a country of  about 4 million people   is hosting more than 1.5 million Syrian refugees in addition to half a million Palestinian refugees
This error message is only visible to WordPress admins
Error: No connected account.
Please go to the Instagram Feed settings page to connect an account.