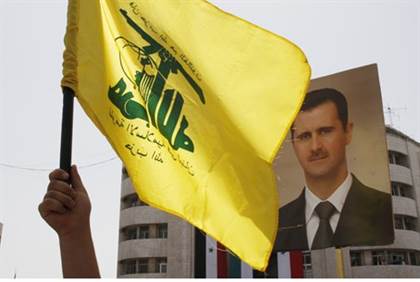 Hezbollah on Thursday  dismissed Prime Minister Tammam Salam's remarks in support of  the Saudi -led Islamic anti-terror military coalition  issue ,  describing his statements as "a personal opinion that is not binding for anyone."
"Any premier cannot agree to joining such a suspicious military coalition, as such a matter must be discussed in cabinet in order to take an appropriate decision," Hezbollah  stressed.
"Hezbollah categorically rejects joining such a suspicious alliance and we stress that Lebanon was the first nation to counter all forms of terrorism, whether it comes from Israel or the takfiri groups," it said.
It noted that it was "surprised by Saudi Arabia's announcement that Lebanon is a member of this coalition without the knowledge of any of the Lebanese."
"This step violates the Constitution, the law and all applicable norms in Lebanon," Hezbollah stressed.
The Iranian backed Shiite militant group expressed "deep doubts" about "the motives and objectives" that pushed Saudi Arabia to announce the formation of "an Islamic anti-terror military coalition."
"This announcement was a response by Saudi Arabia and other countries to a U.S. decision seeking to provide forces from certain regimes in the Arab and Islamic worlds … as an alternative to sending U.S. ground troops to the region," the party noted in a statement.
Questioning if Riyadh is "qualified" to lead such a coalition, Hezbollah  blamed the kingdom for the proliferation of "the terrorist and extremist thought" in the world, accusing it of "maintaining its support for this ideology."
"Saudi Arabia has practiced state terrorism in Yemen and it is backing the terrorist organizations in Syria, Iraq and Yemen," the party charged.
"Will this coalition combat Israel and its incessant terrorism against the Palestinian people or will it combat the resistance movements that are fighting the Zionist enemy?" Hezbollah asked.
Salam accused  some sides of jumping to conclusions   over the coalition, reported al-Joumhouria newspaper on Thursday.
"Salam noted that they jumped to conclusions in this issue before hearing the constitutional and legal aspects of the alliance," sources close to him told the daily.
"The coalition has only made a declaration of political and diplomatic intent," they explained.
Saudi Arabia unveiled on Tuesday the coalition that is aimed at confronting "terrorism."
It includes 35 countries from across the Muslim and Arab world, except Syria, Iraq, and Iran.
Several Lebanese officials welcomed joining the alliance, while others said that they were not consulted over it.
Salam was informed of the step and defended it on Wednesday, saying: "I am entitled as premier to take a preliminary decision on Saudi Arabia's invitation to take part in this alliance, especially since cabinet is not holding sessions."
"No one can prevent me from taking a decision that I deem appropriate and I will assume the responsibility of my actions," he declared.
"This does not mean that I am overriding the government that ultimately has the final say and executive role in the matter," Salam said.
Saudi Arabia is the largest contributor to the Lebanese army . During the past 2 years the kingdom granted $4 billion in arms that are being supplied by France and  several other countries.
While Hezbollah and Iran are backing the embattled  Syrian regime of president Bashar al Assad , Saudi Arabia is backing the opposition .
Similarly while  Iran and Hezbollah are backing the Shite Houthi rebels inYemen , Saudi Arabia is backing the government  which was overthrown by the rebels