Canadian PM welcomes first planeload of Syria Refugees that arrived in Toronto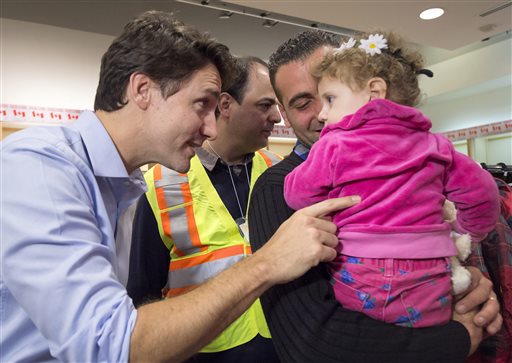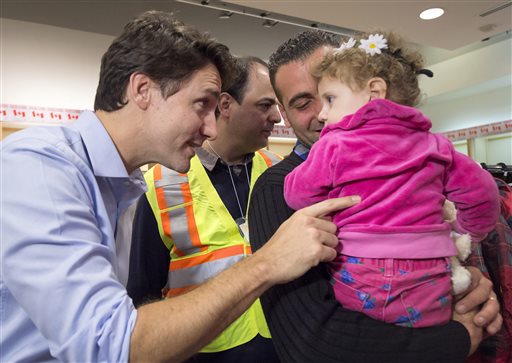 The first Canadian government plane carrying Syrian refugees arrived in Toronto late Thursday where they were greeted by Prime Minister Justin Trudeau, who is pushing forward with his pledge to resettle 25,000 Syrian refugees by the end of February.
The welcome given to the military flight carrying 163 refugees stands in stark contrast to the United States.
Canada's much more populous southern neighbor plans to take in just 10,000 Syrian refugees over the next year, and even that is provoking opposition. Republican presidential candidate Donald Trump caused a worldwide uproar with a proposal to temporarily block Muslims from entering the U.S.
Canada's commitment reflects the change in government after October's election. The former Conservative government had declined to resettle more Syrian refugees, despite the haunting image of a drowned 3-year-old Syrian boy washed up on a Turkish beach. The boy had relatives in Canada, and the refugee crisis became a major campaign issue.
All 10 of Canada's provincial premiers support taking in the refugees and members of the opposition, including the Conservative party, attended the welcoming late Thursday.
The flight from Jordan arrived just before midnight carrying the first of two large groups of Syrian refugees to arrive in the country by government aircraft.
Trudeau greeted some of the families to come through processing. The first family was Kevork Jamkossian, a blacksmith from Aleppo, his wife Georgina Zires, a sales clerk, and their 16-month-old daughter Madeleine.
"We really would like to thank you for all this hospitality and the warm welcome," the father said to Trudeau through an interpreter. "We felt ourselves at home."
"You are home. Welcome home," Trudeau responded.
Canadians eager to show their support for the newcomers weren't deterred by the fact that they couldn't meet face to face as the refugees were processed in a secure area. A handful of people gathered at the international arrivals gate at Pearson airport bearing signs and gifts.
Andrew Harris, 51, said he wanted to counter the fearful messaging about Muslims that has circulated since the Paris attacks. He held up a large yellow sign that read "Welcome to Canada," saying that even if the arriving refugees don't see it, the positive words won't go unnoticed.
About 800 refugees destined for Canada are being screened by security and health officers each day in Lebanon and Jordan.
Canada has long prided itself on opening its doors to asylum-seekers. In times of crisis in decades past, Canada resettled refugees quickly and in large numbers. It airlifted more than 5,000 people from Kosovo in the late 1990s, more than 5,000 from Uganda in 1972 and resettled 60,000 Vietnamese in 1979-80. More than 1.2 million refugees have arrived in Canada since World War II.
"They step off the plane as refugees, but they walk out of this terminal as permanent residents of Canada with social insurance numbers, with health cards and with an opportunity to become full Canadians," Trudeau said. "This is something that we are able to do in this country because we define a Canadian not by a skin color or a language or a religion or a background, but by a shared set of values, aspirations, hopes and dreams that not just Canadians but people around the world share."
Associated Press