Lebanese politicians agreed to export the garbage during dialogue talks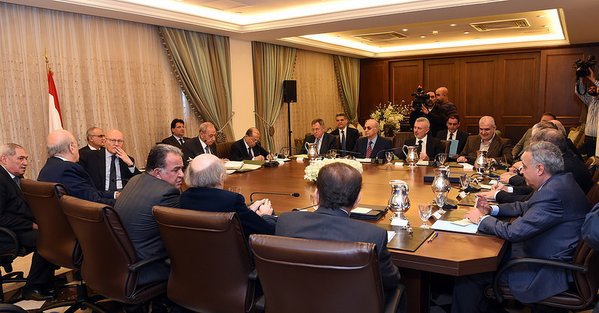 The Lebanese  political parties agreed during a national dialogue session on Tuesday to export the accumulating garbage as a solution to the waste disposal crisis.
They also decided to activate the work of state institutions, especially the cabinet ,"  in order to address the pressing issues", said an official statement issued after the talks in Ain al-Tineh.
Condemning the deadly suicide bombings that hit Bourj al-Barajneh, the parties lauded "the sweeping national consensus on deploring it and the solidarity that was expressed by all political parties in the face of terrorism."
They also praised the efforts of security agencies, "which managed to unveil all the details of this crime and arrest the culprits within 48 hours  ," underlining the importance of "maintaining coordination among them (security agencies) to preserve stability and foil any terrorist plots."
The next session will be held on November 25.
Tuesday's session was attended by Change and Reform bloc leader MP Michel Aoun, who had sent a representative to many previous meetings, amid the absence of the Lebanese Forces and the Phalange  Party reps.
LBCI television reported that the politicians  "discussed the issue of exporting garbage" and the need to "schedule a cabinet session" to approve this step upon the completion of the preparations.
"The session was very beneficial but things need patience," Progressive Socialist Party leader MP Walid Jumblat told reporters after the dialogue session.
 "The atmosphere was positive ", former PM Najib Mikati was quoted as saying.
This is to remind all our readers to respect the community . Comments that contain personal attacks or inappropriate language will be removed.
For those who are new to this site please note that Ya Libnan is all about fixing Lebanon.
We want our readers to come up with ideas that if implemented will make lebanon a better country.
Ya Libnan is a democratic venue that is open to anyone wishing to contribute any ideas to improve Lebanon. Our only wish is to maintain the civility of the discussions and that is why those who have not been able to abide by this rule have been banned from participating in this forum . We don't want or expect anything from anyone …better lebanon is the only reward we seek. Help us get there!