Bassil says Lebanon can benefit from Iran's capabilities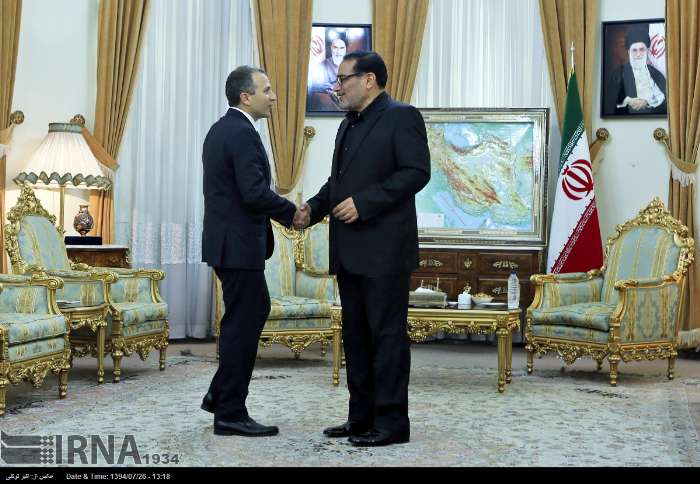 Lebanese Foreign Minister Gebran Bassil said on Sunday that Iran has entered a new era after the nuclear deal , a stage in which he said will free Iran's great capabilities which Lebanon can also benefit from.
"We are witnessing Iran's advances according to regional and national standards," he told reporters after a meeting with Ali Akbar Velayati, a senior adviser to the  Iranian Supreme Leader.
Velayati said that Iran and Lebanon share common views on the Syrian crisis and oppose any foreign intervention in the region.
Iran is aware that the Syrians' resistance is supported by the Lebanese people, added Velayati who served as Iran's foreign minister from 1981 to 1997.
The Lebanese foreign minister said that Iran plays a "critical" role in the region.
Bassil whose father- in-law MP Michel Aoun is a staunch ally of the Iranian-backed Hezbollah militant group added that Lebanon will not forget Iran's part in countering terrorism.
His remarks came as the European Union and the US were planning to announce the gradual lifting of economic sanctions against Iran on Sunday.
Earlier today National News Agency reported that Bassil said the world expects Lebanon and Iran to eradicate terrorism because "we have the military power and intelligence to do so"
"We have talked about the expectations of the region and its people from two countries such as Lebanon and Iran. Our main responsibility is to eradicate terrorism from our land," said Bassil in a press conference.
"We have the military capability and the intelligence to prevent its expansion into the world," the Minister added.
Bassil traveled to Iran on Friday on the same plane as Chairman of Iranian Parliament's National Security and Foreign Policy Committee Alaeddin Boroujerdi.
Boroujerdi had paid a visit on Friday to Lebanon where he held talks with senior officials, including Prime Minister Tammam Salam, Bassil, and Hezbollah chief Hassan Nasrallah.
Bassil attened a regional conference affiliated with the Munich Security Conference at the invitation of his Iranian counterpart Mohammed Javad Zarif, reports said.