FM Bassil Planning to Visit Iran Soon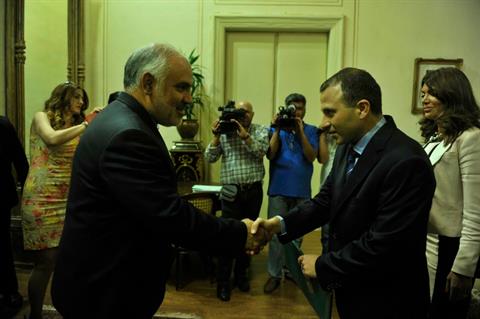 Lebanese Foreign Minister Gebran Bassil is planning to visit Tehran later in the week as the new leader of the Free Patriotic Movement, several local newspapers reported on Tuesday.
The dailies said the visit of Bassil, who took over the FPM leadership from his father-in-law MP Michel Aoun last month, would come ahead of Iranian President Hassan Rouhani's trip to Paris to meet with his French counterpart Francois Hollande.
According to the reports, Bassil's meetings with Iranian officials would tackle bilateral relations and the developments in the region.
The talks between the Iranian and French leaders are also expected to tackle the presidential deadlock in Lebanon.
But Iran's Ambassador to Lebanon Mohammed Fathali said on Monday that the presidential crisis is a local issue.
"We hope to see a strong president in Lebanon," he added.
The Lebanese parliament failed again on September 29 th and for the 29th time in a row to elect a president to replace Michel Suleiman whose term ended on May 25 last year.
As in the past sessions the parliament was unable to reach a quorum because the Iranian backed Hezbollah militant group and its ally MP Michel Aoun's Change and Reform bloc MPs boycotted the sessions.
Speaker Nabih Berri a key ally of Hezbollah postponed the election to October 21, 2015 .
Lebanese Forces leader Samir Geagea who was the first to announce his candidacy for the presidency accused Iran on several occasions of being behind the presidential vacuum.