Roukoz quietly leaves headquarters a day early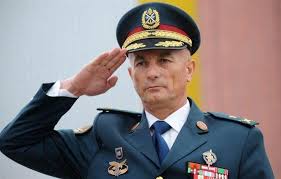 Commando Regiment chief Brig. Gen. Chamel Roukoz is set to leave his headquarters in Roumieh on Tuesday for his successor Maroun al-Qobayati a day early as his term ends on October 15, following the official Hijri year holiday.
The official handover ceremony between Roukoz and Qobayati will not be held this year, and Roukoz is scheduled to visit the ministry of defense where he will hold a meeting with Army Commander Jean Kahwaji and several other officers.
The army commander has signed a decree last week naming al-Qobayati as chief of the Commando Regiment to succeed Roukoz.
Roukoz is the son-in-law of MP Michel Aoun who was adamant to receive political consensus on his promotion to keep him in the military and make him eligible to become army chief.
Aoun's insistence to have his son-in-law appointed as army commander has stalled the government and left it paralyzed as his ministers have boycotted the cabinet sessions.
Supporters of Roukoz have called for a gathering in downtown Beirut's Martyr Square on Thursday in support of Roukoz, urging protesters to only hoist the Lebanese flag.
Roukoz reportedly will not be taking an active role in Aoun's FPM . He reportedly plans to go soon to Boston on a 3 week holiday.