Jumblatt links future cabinet sessions to garbage issue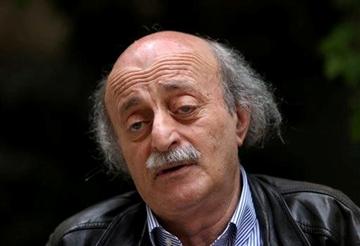 Progressive Socialist Party leader MP Walid Jumblatt said Sunday that Prime Minister Tammam Salam will not be holding any Cabinet sessions before Agriculture Minister Akram Chehayeb's garbage plan is implemented , and before rival party leaders resume dialogue sessions.
"The plan is supposed to be implemented starting  Wednesday," Jumblatt told Kuwaiti Al-Anbaa newspaper, referring to Chehayeb's  plan which was agreed on in a Cabinet session last month.
Under the terms of the plan, authorities will move tens of thousands of tons of rotting garbage to a reopened Naameh landfill, and then begin to send fresh waste to four other locations around the country over the coming 18 months. The locations identified were newly established landfills in the Bekaa (along the Syrian border), the Akkar village of Srar, and a garbage  processing facility in Sidon, south Lebanon.
Speaker Nabih Berri launched national dialogue sessions among the rival political powers in an effort to ease tensions over a number of pending problems, most importantly the deadlock over the election of a new president and resolving the dispute over security appointments and promotions.
The dialogue sessions convened for three times . Berri  scheduled 3 consecutive sessions for  Oct. 6, 7 and 8, which will focus on the election of a new head of state.
However, on Tuesday the Change and Reform bloc leader MP Michel Aoun threatened to suspend his party's participation in the talks in the wake of media reports that he had agreed to a settlement over the appointments file.
We at Ya Libnan encourage and welcome an open exchange of ideas on this story's topic, but we kindly ask all participants to follow our guidelines for respecting community standards. Personal attacks, inappropriate language, and off-topic comments may be removed, and comment privileges revoked .