Familes of kidnapped servicemen block roads, Protest Negligence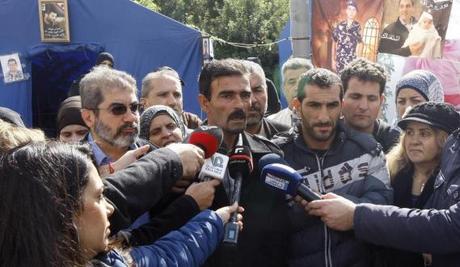 Families  of the kidnapped servicemen that were  taken hostage by the Islamic State and al-Nusra Front blocked roads and protested against the negligence of their cause by the authorities
They blocked the Banks street in Riad al-Solh square on Sunday  and from there they headed to the airport and blocked the main airport road both ways with burning tires
"We have heard nothing about our sons since eight months. We have information that the crisis cell is exerting no efforts currently to try and free them ," they stated.
"Our move today is to bring the file of our kidnapped sons back to the table of dialogue until a solution is reached".They added
"The dialogue session has convened three times and we are sure that our cause has not been addressed," they added, in reference to the national dialogue table that Speaker Nabih Berri has been chairing
The relatives have warned a day earlier that they will take escalatory measures starting Sunday to pressure the authorities into bringing the hostages  back home.
In a statement they released on Saturday, the families accused the authorities of neglecting the cause of the soldiers and policemen who were taken hostage in the northeastern border town of Arsal in August 2014.
They said they would resort to "painful escalatory measures to reprioritize their cause."
A few of the captives have been released and four were executed.
Negotiations  through the State of Qatar aimed at their release have stalled.
We at Ya Libnan encourage and welcome an open exchange of ideas on this story's topic, but we kindly ask all participants to follow our guidelines for respecting community standards. Personal attacks, inappropriate language, and off-topic comments may be removed, and comment privileges revoked .