Russia launched airstrikes in Syria. U.S. "taken aback" by Russia's move
A U.S. defense official tells The Associated Press that Russia has launched airstrikes in Syria.
The move follows a vote by Russian lawmakers to allow President Vladimir Putin to order airstrikes in Syria.
The airstrike targeted ISIS military equipment, communications centers, vehicles and ammunition, Maj. Gen. Igor Konashenkov said, as part of pinpoint strikes against ISIS ground targets.
But a senior U.S. administration official told CNN's Elise Labott the Russian airstrike near the city of Homs "has no strategic purpose" in terms of combating ISIS, which "shows they are not there to go after ISIS."
The official said the U.S. had no intention of preventing the strikes but that Russian planes didn't seem to be flying in areas where the U.S. was operating. "They are not stupid," the official said.
The State Department said U.S.-led coalition missions were continuing as normal despite an advance warning and request from Russia to stay out of Syrian airspace.
"A Russian official in Baghdad this morning informed U.S. Embassy personnel that Russian military aircraft would begin flying anti-ISIS missions today over Syria," said spokesman John Kirby. "He further requested that U.S. aircraft avoid Syrian airspace during these missions."
Cannot be trusted
A senior U.S. defense official told CNN the Pentagon was "taken aback" by Russia's actions. "Our presidents just talked about setting up de-confliction talks and now they just go ahead and do this? They cannot be trusted."
A second U.S. official said: "This is not how military relations are conducted, by banging on the door of our embassy and reading a note."
Pentagon spokesman Peter Cook had told reporters Tuesday that Secretary of Defense Ash Carter directed his staff to "open lines of communication with Russia on de-confliction." The purpose of discussions would be "to ensure the safety of coalition air crews," he said.
Russia recently moved fighter aircraft to an air base south of the Syrian coastal city of Latakia. U.S. officials had said in recent days that the Russians were flying reconnaissance missions without dropping bombs to familiarize themselves within the area. That was taken as an indication that they were about to begin airstrikes.
Russian lawmakers
Russian lawmakers voted unanimously Wednesday to allow President Vladimir Putin to order air strikes in Syria, where Russia has deployed fighter jets and other weapons in recent weeks.
Putin had to request parliamentary approval for any use of Russian troops abroad, according to the constitution. The last time he did so was before Russia annexed Ukraine's Crimean Peninsula in March 2014.
The vote comes after Putin's meeting Monday with President Barack Obama on the sidelines of the United Nations General Assembly meeting in New York, where the two discussed Russia's recent military buildup in Syria. Speaking after his meeting with Obama, Putin kept the door open for air strikes but ruled out ground action.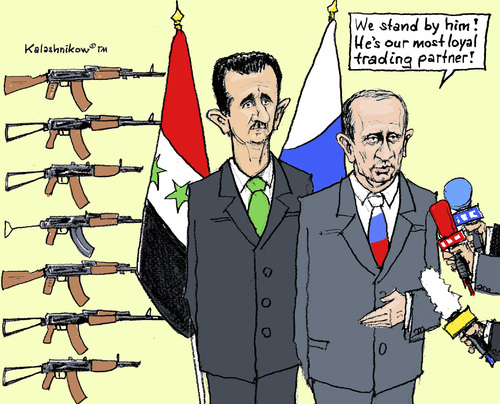 Putin and other officials have said Russia was providing weapons and training to Syrian President Bashar Assad's army to help it combat the Islamic State group. Russian navy transport vessels have been shuttling back and forth for weeks to ferry troops, weapons and supplies to an air base near the Syrian coastal city of Latakia. IHS Jane's, a leading defense research group, said last week that satellite images of the base showed 28 jets, including Su-30 multirole fighters, Su-25 ground attack jets, Su-24 bombers and possibly Ka-52 helicopter gunships.
The Federation Council, the upper chamber of the Russian parliament, discussed Putin's request for the authorization behind closed doors Wednesday, cutting off its live web broadcast to hold a debate notable for its quickness.
Sergei Ivanov, chief of Putin's administration, said in televised remarks after the discussion that the parliament voted unanimously to give the green light to Putin's request. The proposal does not need to go to the lower chamber.
Ivanov insisted that Moscow is not sending ground troops to Syria, but will only use its air force "in order to support the Syrian government forces in their fight against the Islamic State" group.
Ivanov said Moscow was responding to a request from Assad asking for help. He said the biggest difference from the air strikes being conducted by the United States and other countries is that "they do not comply with international law, but we do."
Moscow has always been a top ally of Assad. The war in Syria against his regime, which began in 2011, has left at least 250,000 dead and forced millions to flee the country. It is also the driving force behind the record-breaking number of asylum-seekers fleeing to Europe this year.
Ivanov told reporters that Russia decided to help Assad in order to protect its own country from Islamic militants, not because of "some foreign policy goals or ambitions that our Western partners often accuse us of."
"We are talking about Russia's national security interests," Ivanov said, adding that Moscow is worried about the growing number of Russian recruits going off to fight for the Islamic State group. Russia estimates that at least 2,400 of its citizens are fighting in Syria and Iraq.
Moscow should "take pre-emptive steps and do it on distant frontiers, instead of facing the issue here and later on," said Ivanov.
Asked about the possibility of Russian aircraft joining air strikes on the IS, Putin said in New York on Monday that Moscow would do so in full conformity with international law.
"We are thinking what else we could do to support those who are fighting terrorists, including the IS," Putin said. "There is no talk and there can't be any talk about involvement of Russian military units in ground operations."
Worried by the threat of Russian and U.S. jets clashing inadvertently over Syrian skies, Washington agreed to talk to Moscow on how to "deconflict" their military actions. Last week, U.S. Defense Secretary Ash Carter had a 50-minute phone call with his Russian counterpart, in the first such military-to-military discussion between the two countries in more than a year.
Israel has taken similar precautions, with Prime Minister Benjamin Netanyahu visiting Moscow last week to agree with Putin on a coordination mechanism to avoid any possible confrontation between Israeli and Russian forces in Syria.
Federation Council chairwoman Valentina Matvienko said in a live news conference on Russian television that the decision reflects Russia's growing role in global affairs.
"We as a great power cannot but take part in fighting this great evil," Matvienko said, adding that the Soviet Union and Syria signed a security cooperation agreement in 1980 that guarantees that Moscow would help Damascus if asked. "We couldn't refuse Bashar Assad and keep on seeing how people, women and children are dying."
No public support
But sending Russian troops to Syria does not appear to have much public support. As few as 14 percent would support the move, according to a poll by the Levada polling agency published Monday. The nationwide poll of 2,400 people was conducted Sept. 18-21 and has a margin of error of 4 percent.
Russian opposition was rattled by the Kremlin's request to send troops abroad and the secretive way the vote was held.
"The fact that the Federation Council considered sending our troops abroad behind closed doors looks unconstitutional," opposition leader Alexei Navalny said on Twitter. "Or is it just their own grandsons who are going off (to fight)?"
In Baghdad, Saad al-Hadithi, a spokesman for the Iraqi prime minister, said his government was in talks with Russia "in the hope that shared intelligence will further our abilities to defeat the terrorists within our borders."
The Islamic State group has captured large parts of both Syria and Iraq.
ASSOCIATED PRESS/CNN