Berri warns to suspend dialogue if more parties boycott it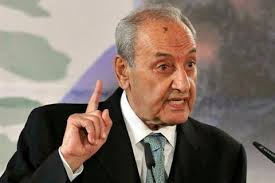 Lebanon parliament Speaker Nabih Berri has warned that  he would suspend the dialogue talks  if more than one party decided to boycott the talks.
His comments come after  a report in the al  Hayat daily said  quoted  Sami Gemayel the leader   of  the Phalange party  as saying  he  will  have to take a stance from the dialogue  if no agreement was reached on the priority of electing a president.
Berri  reiterated that the presidential deadlock was the first item on the agenda of the dialogue that is scheduled to be held on Wednesday.
Berri told his visitors that he would propose the discussion of the presidential crisis and then move to another item if the rival parties failed to agree on it.
"Who knows? We might agree on the electoral law based on proportionality … and then on holding the parliamentary elections," he said in remarks published in several newspapers on Monday.
"We could then immediately elect a president. This way, we would succeed in Lebanonizing the solution," Berri added.
The speaker rejected criticism that the March 8 alliance is more represented than March 14 at the dialogue table.
"There is no majority or minority for anyone in the dialogue because it will take its decisions based on consensus and not voting," he said.
The heads of the rival parliamentary blocs, Prime Minister Tammam Salam and several other officials are expected to attend the first round of the dialogue that Berri will chair on Wednesday.
So far only the Lebanese Forces announced officially  that  it would boycott the talks.
Berri said, however, that the parties supporting the election of a president and the approval of an electoral draft-law, should head to the parliament and not boycott it.
The speaker stressed that in case the rival blocs failed to take decisions, then the dialogue would be seen as "a failure for all and not just Nabih Berri."
Neither the Phalange nor the Lebanese Forces are reportedly excited about the all party talks because the Iranian backed Hezbollah reneged on the deals reached during the dialogue talks that were chaired by Berri and former president Michel Suleiman .
In 2006 Hezbollah initiated a war with Israel when it kidnapped 2 Israeli soldiers despite a deal that war and peace decisions will be jointly decided by all concerned parties.
And in 20013 Hezbollah decided to fight alongside the forces of the Syrian regime against the mostly Sunni rebels despite the Baabda declaration which called for distancing Lebanon from events in Syria.
Berri chaired the 2006 talks and Suleiman chaired the 2013 talks.
The first dialogue session will coincide with a mass rally by the You Stink  group near the parliament building .
Labor Minister Sejaan Qazzi who represents the Phalange party in the cabinet was quoted as saying in reference to the current uprising  by the You Stink  group  over the garbage crisis in Lebanon:
"  The people are looking for a new set of politicians and it is very difficult to find because changing political leaders is almost impossible with the current sectarian system in Lebanon."