Opinion: Iran is more dangerous to the region than any other enemy
By: Salman Aldosary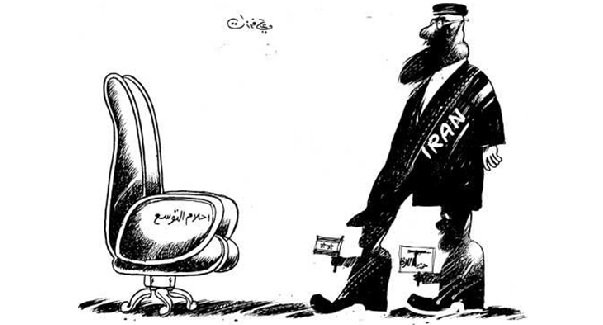 Before the ink had even dried on comments made by Iranian officials regarding the recent Gulf–Iranian dialogue, Kuwaiti authorities made the announcement that they had intercepted a Hezbollah-linked terrorist cell that had transported weapons into the country via Iran. And at the same time that Iran's Foreign Minister Mohammad Javad Zarif was speaking regarding his vision for relations with Tehran's Gulf neighbors, Bahrain announced the results of investigations into an attack in Sitra outside the capital Manama which killed two policemen and injured six: a link to Iran's Islamic Revolutionary Guard Corps had been established during the investigation. These two terrorist incidents are certainly not the first that have been directed at Gulf countries by Iran and its proxies in the region. However, both coincided with warm calls from the Iranian administration for dialogue with its Gulf neighbors, and clearly display that there is a huge difference between concrete realities and action on the one hand, and mere words on the other.
Politicians are always fond of saying that in politics, interests, and indeed friendships, are not permanent. My enemy today can always become my friend tomorrow if our joint interests begin to converge. Likewise, a friend or ally can also become an enemy if their actions become hostile. So when it comes to the Gulf position toward Iran there is certainly no harm in attempting dialogue if this will indeed lead to greater stability in the Gulf and the region. The problem here is that any dialogue with any party is not so much an end to itself, as it is a means to an end. Whoever is familiar with Tehran's policies knows full well it is attempting to use this latest push for dialogue with the Gulf states as a card to play in front of the international community and as a means to cover up other, less palatable, actions. The Gulf states, on the other hand, are seeking through this dialogue to reduce tensions in the region and Iran's interference in the affairs of other states. So Iran is essentially using this latest charm offensive with the Gulf to stall change with one hand, and accelerate its interference, mischief-making, and hostile policies with the other. It will also use it to say in front of the entire world: "Don't believe what you hear about us interfering in the affairs of our neighbors. After all, here we are talking openly with them and there are clearly no problems."
Let me repeat: Whoever refuses outright the mere idea of dialogue with Tehran is mistaken, for nothing is more welcome to the Gulf states and their peoples than an improvement in the relationship with their neighbor on the eastern bank of the Arabian Gulf. However, it would be pure fully to forget that this neighbor is more dangerous to the region than any other enemy. Iran has shown this through its actions, time and time again, and there is countless evidence and proof available to this effect. Even while it fights a group like the Islamic State of Iraq and Syria (ISIS) it played a hand in the establishment of the Popular Mobilization forces in Iraq. So we in the region went to bed worrying about the threat of the terrorist, militant, sectarian ISIS, and awoke to find another militia, opposed to it but of the same ilk, in our midst. And all this is simply part of Iran's push to achieve one of its most prized strategic objectives: to establish a bridge between itself and the Mediterranean via Iraq, Syria, and Lebanon. Iran will fight tooth and nail to achieve this goal; so what, then, could the harm be in attempting dialogue with the Gulf states as a PR move to cover up these efforts?
The politics of stalling and delaying is something the Iranians have shown they have mastered down to the last detail. They do not negotiate with anyone on the basis of principle, but rather in terms of what results it will get them on the ground. In 2003, the West discovered that Iran had been attempting to enrich uranium in its centrifuges, something these countries refused outright. Iran then began negotiations with the P5+1 countries until it convinced them to allow it to reduce its enrichment capacity from 20 percent to 5 percent—in other words, until it had achieved what it had wanted from the enrichment process in the first place. In its current and ongoing dialogue with the Gulf states Iran will likewise not flinch from doing whatever it can to achieve its goals in full. It will be conducting these talks not based on internationally recognized political principles and a commitment not to interfere in the affairs of others, but rather on the basis of pragmatic considerations as to what suits its agenda in Iraq, Syria, and Lebanon. And with that in mind the dialogue will begin, only to end with Iran's resources and proxies in a much better state than they were when it started talking. In fact, Iran has nothing to lose: at worse it will end the dialogue in the very same state in which it began it.
Consider this: Iran is now talking with its neighbors at last and broadcasting its good intentions for all to see—while at the same time Hezbollah and the Revolutionary Guard are fighting in Syria, Tehran's Houthi allies destabilize Yemen, the sectarian Popular Mobilization forces continue their abuses in Iraq, and, finally, Kuwait arrests an entire terrorist cell on its own soil armed with weapons brought from Iran. Who knows, perhaps the basis for any future talks with Iran should presuppose that they be conducted in the presence of the RPGs that have been confiscated in Kuwait . . .
Salman Aldosary is the editor-in-chief of Asharq Al-Awsat newspaper.

Asharq Al-Awsat