Kahwaji, Roukoz meet for lunch In a show of army unity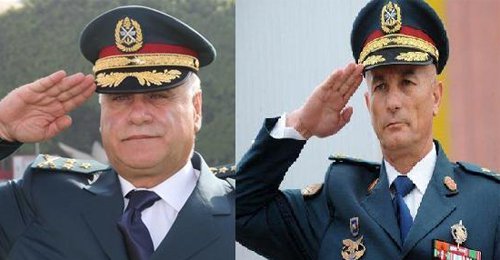 A lunch meeting on Thursday brought together Army chief General Jean Kahwaji and Commando Regiment commander Brig. Gen. Chamel Roukoz, Lebanese media reported.
The meeting took place at the "Karam" restaurant in downtown Beirut, the reports said.
LBCI television said the two generals did not tackle the thorny issue of security and military appointments.
It also said that the meeting had been scheduled 48 hours prior to its occurrence.
Defense Minister Samir Moqbel has recently extended the the terms of the army commander, chief of staff and the head of the Higher Defense Council despite months of objections by the FPM, which rejects the extension of the tenures of high-ranking military and security officials.
Prior to Kahwaji's term extension, Aoun was reportedly lobbying for political consensus on the appointment of Roukoz, his son-in-law, as army chief.
The Kahwaji-Roukoz meeting comes a day after FPM supporters held street protests against what Aoun terms as the violation of the rights of Christians as well as Moqbel's decision to extend the tenures of the top three military officers.
Central News Agency said that the two Army officials purposely decided to have the meal in a public space in order to show that the military remains united. The meeting, at the Karam Restaurant, was "friendly and cheerful," according to the agency.
Kahwagi was originally scheduled to retire in September, but the date has been now been pushed back by more than a year. In response to the extensions