Venezuela frees 2nd prominent opponent in just over 24 hours
A former Venezuelan defense minister turned staunch government critic was granted early release from jail, making him the second prominent opposition leader to be freed in little more than 24 hours.
A military tribunal late Wednesday granted retired Gen. Raul Baduel parole after he completed six of a nearly 8-year sentence on corruption charges, his lawyer Omar Tosta told The Associated Press. A short video of Baduel embracing loved ones was tweeted by his daughter after he was discharged from the military prison outside Caracas, where he's been held alongside Venezuela's most-recognized jailed opponent, Leopoldo Lopez.
Baduel's release comes just 24 hours after Daniel Ceballos, the former mayor of the restive western city of San Cristobal, was granted house arrest on medical grounds while awaiting trial for his alleged role in inciting violence during last year's anti-government protests.
Combined, the two surprise releases could signal a greater leniency on the part of President Nicolas Maduro's socialist administration, which has come under sharp fire from the U.S. over the imprisonment of some 50 anti-government activists on what human rights groups say are trumped-up charges meant to silence dissent.
Baduel drew close to Chavez in their days as army cadets in the 1970s, and with other loyalists, he helped restore the charismatic leftist to power following a brief 2002 coup. But he broke with his longtime friend in 2007, likening a referendum granting Chavez more power to a virtual coup.
In 2009, he was arrested on corruption charges that he says were invented to punish him for defecting.
Ceballos, hours after being reunited with his family, shouted a statement Wednesday to the press from a second floor window of a relative's apartment in an upscale part of Caracas, saying his surprise release represented a hopeful sign "that all political prisoners might be reunited with their families."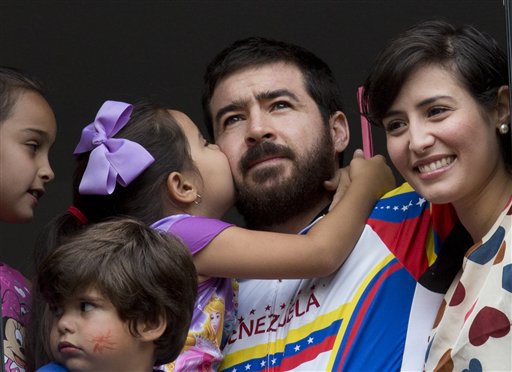 The 31-year-old leader, who is awaiting trial on charges of civil rebellion, went on a hunger strike together with Baduel and Lopez in June to demand the government release its opponents and set a date for legislative elections.
The election date has now been set, and a handful of prisoners have since been freed, but none as well-known as Baduel or Ceballos.
Ceballos was arrested in March 2014 on charges related to his support of anti-government demonstrations in San Cristobal that helped ignite a nationwide protest movement. He will be bound by standard house arrest rules prohibiting him from speaking publicly, using social media and engaging in political activity.
U.S. officials have made the release of the opposition leaders a key demand in ongoing talks aimed at normalizing diplomatic relations.
The latest concessions allows Maduro to make a goodwill gesture to the international community, and could have the added benefit of deflating some of the opposition's appeal to indecisive voters that they are victims of injustice.
Caracas-based political analyst Dimitris Pantoulas pointed to the case of Caracas Mayor Antonio Ledezma, who was released to house arrest for health reasons in April, and has become something of an afterthought in opposition calls to free political prisoners.
"When it's house arrest, people don't consider them jailed anymore," Pantoulas said.
Associated Press