Hezbollah and Syria rebels agree on a 2-day truce in Zabadani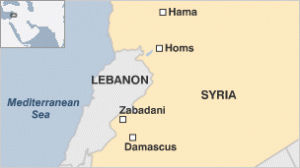 A two-day truce agreed on between Lebanese Hezbollah fighters in a Syrian border town and militant and rebels groups there went into effect on Wednesday, a Lebanese TV station and activists said.
The cease-fire silenced the guns in the town of Zabadani and two northern Shiite villages, Foua and Kfarya, according to the Hezbollah's TV channel Al-Manar and the Britain-based Syrian Observatory for Human Rights.
Syrian government troops and their Hezbollah allies have been trying to fully capture the one-time rebel stronghold of Zabadani for more than a month.
A coalition of rebel groups which calls itself Jaysh al-Fateh, or Conquest Army, retaliated by attacking the besieged Foua and Kfarya in Idlib province, which are home to mostly Shiite villagers. A large number of civilians have been trapped there by the fighting.
The Observatory said that during the truce, Iranian and Hezbollah mediators will negotiate with fighters in Zabadani on securing buses to take militants from the town in return for allowing humanitarian and food assistance to enter Foua and Kfarya. It said some fighters are refusing to leave Zabadani.
The truce applies to everyone in the area, including Syrian government forces.
Meanwhile, Amnesty International on Wednesday accused the Syrian government of committing war crimes this year in the eastern suburbs of the capital, Damascus, known as Eastern Ghouta — the latest in a string of such accusations by the London-based group.
Amnesty said that more than 163,000 have been living under siege in the area and that between January and June this year, Syrian government forces carried out at least 60 aerial attacks on Eastern Ghouta, killing around 500 civilians.
"The lives of civilians in Eastern Ghouta have been devastated by bloodshed and tragedy. They are trapped and surrounded by fighting on all fronts with no means to escape the unlawful aerial and shelling attacks waged by government forces," said Said Boumedouha, Amnesty's Mideast and North Africa director.
"Their anguish is compounded by dwindling supplies of food, clean water and other crucial necessities," he added.
The Observatory and Syria-based activist Hadi Abdullah said warplanes of the U.S.-led coalition struck a post run by a militant group known as Sunna Army, which is close to al-Qaida's affiliate inSyria, on Tuesday night.
The strike on the northern village of Atmeh killed at least 18 people, including 10 fighters and eight civilians, the Observatory said.
ABC/AP