FPM ministers disrupt cabinet meeting. No decisions made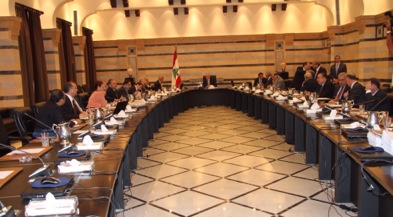 The cabinet failed on Thursday to take any decision because the ministers representing the Free Patriotic Movement reportedly disrupted the meeting by insisting on limiting the agenda to the government's working mechanism and the appointment of top military and security officials, while Prime Minister Tammam Salam insisted on discussing urgent issues
The most urgent issues that Salam wanted to discuss were the growing garbage management crisis and $740 million international loans that needed approval.
According to media reports, the FPM ministers blamed Defense Minister Samir Moqbel for extending the terms of three top military officials last week.
Education Minister Elias Bou Saab and Foreign Minister Jebran Bassil, who are FPM officials, wanted the cabinet to first discuss the decision-making mechanism and the appointments of top military and security officials before moving to other items on the agenda.
FPM chief MP Michel Aoun and Salam have been for months locking horns over the mechanism that would govern the cabinet's work and the appointments in the absence of a Lebanese president
The cabinet convened a day after FPM supporters held street protests against what they claim is the marginalization of the rights of Christians and the recent extension of the terms of top military officials.
In his statement at the start of the session, Salam said the vacuum at the Baabda Palace was causing the paralysis of the parliament and the government.
The disruption of the cabinet meeting by the FPM officials prompted Telecommunications Minister Butros Harb to announce that he will no longer attend cabinet sessions.