Kerry to raise U.S. flag at restored Havana embassy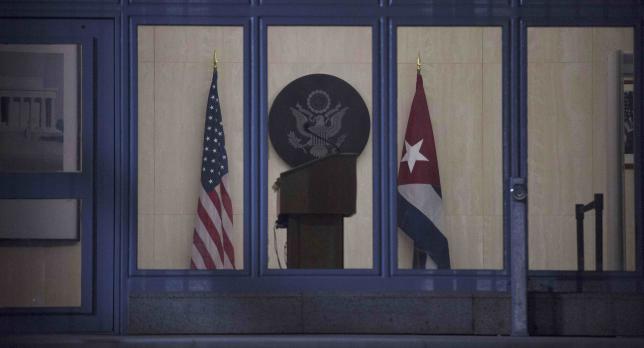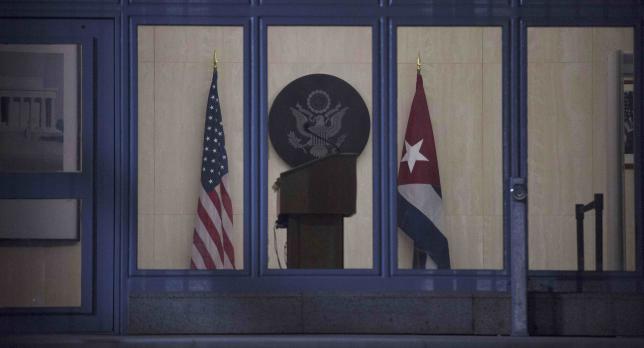 U.S. Secretary of State John Kerry travels to Cuba on Friday to raise the U.S. flag at the recently restored American embassy in Havana, another symbolic step in the thawing of relations between the two Cold War-era foes.
The ceremony, raising the flag over the building for the first time in 54 years, comes nearly four weeks after the United States and Cuba formally renewed diplomatic relations and upgraded their diplomatic missions to embassies.
While the Cubans celebrated with a flag-raising in Washington on July 20, the Americans waited until Kerry could travel to Havana.
Kerry, the first U.S. secretary of state to visit Cuba in 70 years, will be accompanied by aides, members of Congress and three U.S. Marines who last lowered the flag there in January 1961. Washington severed diplomatic ties with Havana as relations soured soon after the 1959 Cuban Revolution.
The seven-story seafront building in Havana and Cuba's mansion in Washington were closed from 1961 until 1977, when they reopened as interests sections.
Seeking to end the long hostilities, Cuban President Raul Castro and U.S. President Barack Obama announced last December they would restore diplomatic ties, reopen embassies and work to normalize relations.
Obama has also used executive power to relax some U.S. travel and trade restrictions, but the Republican-controlled Congress has resisted his call to end America's wider economic embargo.
The Obama administration says Washington's long policy of trying to force change in Communist-governed Cuba through isolation did not work. Kerry told Univision television ahead of his trip he hoped to see a "transformation" begin to take place.
"More people will travel. There will be more exchange. More families will be reconnected. And hopefully, the government of Cuba will itself make decisions that will begin to change things."
Kerry will meet Cuban dissidents at the U.S. embassy residence in Havana on Friday afternoon. Dissidents were not invited to the morning flag-raising in deference to the Cuban government, which sees dissidents as U.S.-sponsored mercenaries.
Restored diplomatic ties mean U.S. diplomats can travel more freely and increase staff. Cuba has also reduced the number of security guards who keep on eye on Cubans going in and out.
The task of normalizing overall relations is more complicated.
Cuba wants the United States to end the embargo, return the U.S. naval base at Guantanamo Bay in eastern Cuba, and halt radio and television signals beamed into Cuba.
The Americans will press Cuba on human rights, the return of fugitives granted asylum and the claims of Americans whose property was nationalized after Fidel Castro came to power.
MILLIONS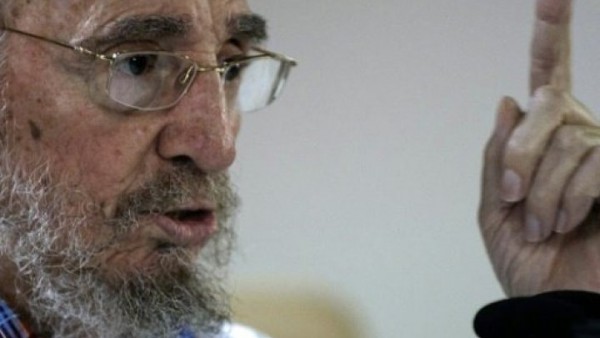 Fidel Castro marked his 89th birthday Thursday by insisting the United States owes Cuba "many millions of dollars" because of the half-century-old American trade embargo.
Castro spoke out in an essay published in local media a day before Kerry makes a historic visit to Cuba to reopen the US embassy as part of the countries' restoration of diplomatic relations.
The trade embargo that the United States slapped on communist Cuba in 1962, three years after Castro seized power by ousting a US-backed regime, remains in effect despite the thaw.
Castro wrote: "Cuba is owed compensation equivalent to damages, which total many millions of dollars, as our country has stated with irrefutable arguments and data in all of its speeches at the United Nations."
He did not go into detail about precisely how much money he reckons Washington owes Havana. The Americans are also claiming compensation for US-owned property, such as real estate, that was confiscated when Castro took power.
REUTERS/AFP