Oil and Gas: "The solution is in your hands" , US tells Lebanon
Amos Hochstein, who serves as the Special Envoy and Coordinator for International Energy Affairs leading the Bureau of Energy Resources (ENR) at the U.S. Department of State stressed during his visit to Beirut that the solution to the exploration of Lebanon's offshore oil and gas reserves is in the hands of the Lebanese.
"The solution is in your hands," he told An Nahar newspaper on Wednesday , adding "it was time for Lebanon to issue oil decrees and start working."
"The issue is more complicated than just drawing a line on a map," Hochstein said about calls for the demarcation of the maritime border with Israel.
Lebanon and Israel are bickering over a maritime zone that consists of about 854 square kilometers and suspected energy reserves there could generate billions of dollars.
Lebanese officials have continuously warned that Israel's exploration of new offshore gas fields near Lebanese territorial waters means the Jewish state is siphoning some of Lebanon's crude oil.
The U.S. had offered to mediate between the sides in an attempt to reach a solution.
Beirut argues that a maritime map it submitted to the U.N. is in line with an armistice accord drawn up in 1949, an agreement which is not contested by Israel.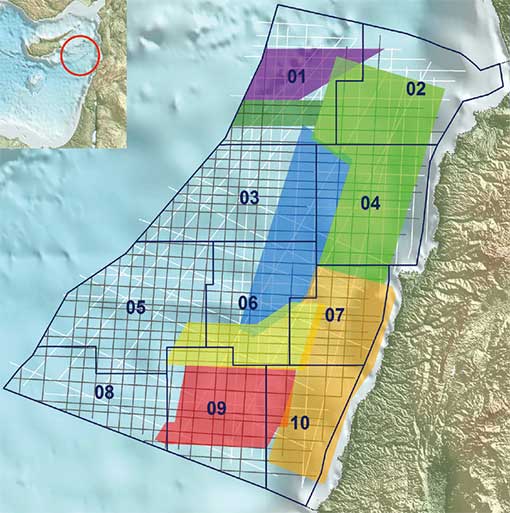 "Gas prices have dropped and opportunities in the world are growing and some countries are developing," Hochstein told An Nahar, urging the Lebanese "not to arrive late for the party."
Hochstein met on Wednesday with Prime Minister Tammam Salam, Energy Minister Arthur Nazarian and UNIFIL Commander Maj. Gen. Luciano Portolano.
Al-Liwaa daily quoted Hochstein as saying that the U.S. is ready to assist Lebanon in the demarcation of its maritime border.
The Lebanese officials insisted that the process should be carried out through the United Nations, informed sources told the newspaper.